What's the handset with the best phone-to-screen size ratio ever? Why, the Xperia ZL, says Sony
21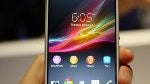 The
Sony Xperia ZL
often gets overlooked in the shadows of its waterproof sibling, the
Xperia Z
, but is actually the same handset, save for the ruggedness. Well, and a few other things like one other very important ratio, it seems.
In the press release for the phone's launch in Canada on all carriers come April, Sony has inserted one nugget of info about the handset, stating that it actually has the best phone-to-screen size ratio out of 884 devices compared.
The Xperia ZL apparently
hits 75.84% ratio
, while most of today's smartphones max out at 60-68%. We'd love to one day see a phone that is almost entirely a screen in the front, but we do know there are engineering and ergonomics hurdles to overcome.
Nevertheless, what Sony Xperia ZL's designers have done is an electronics marvel, thanks to Android's ability to make do with on-screen navigational buttons only, which surely can nix some space that would've otherwise gone for physical or capacitive keys underneath the display. The exact quote from Sony is:
As of January 2013, the Sony Xperia ZL smartphone offers the highest screen size to phone size ratio (75.84%) of any phone ever announced. This is based on analysis of the specs of 884 smartphones. Screen area is calculated based on display size and aspect ratio; device area is calculated as height multiplied by width.