Helio X20 vs Snapdragon 820 comparison shows why the deca-core chip guns for the midrange
29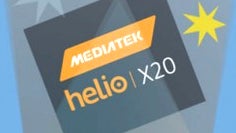 MediaTek's
Helio X20
chipset, the industry's first deca-core endeavor, is fresh out of the oven, and with it comes the inevitable comparison with the elephant in the mobile chipsets factory - Qualcomm's Snapdragon 820. The
Helio X20 was already compared once
with the current king of the Qualcomm elite - Snapdragon 810 - but it's the 820 that everyone is now looking forward to.
MediaTek achieved this deca-core status with the so-called
tri-cluster
architecture - they bundled together two powerful Cortex-A72 units, clocked at 2.5 GHz, then four lowly Cortex-A53 pieces, running at 2 GHz maximums, then a quad pack of Cortex-A53s again, which had been clocked the lowest, at mere 1.4 GHz, for the unassuming tasks. Don't be fooled, though, the ten-core chipset is actually aimed at the upper midrange phones of the future, says MediaTek, as is suggested by the inclusion of only a pair of powerful Cortex-A72s, too.
Looking at the direct comparison with Snapdragon 820 in the table below, it becomes clear why. The 820 sports four custom
Kryo
cores that are at least as powerful as ARM's standard
Cortex-A72
architecture, and also features
DDR4 RAM
tech support, while the Helio X20 maxes out at DDR3. Snapdragon 820 also has a custom GPU that supports screens with higher resolution than the X20, as well as 4K video encoding at double the framerate of MediaTek's deca-core champ. Last but not least, Helio X20 is built with the 20nm process, against 14nm for Snapdragon 820, and Qualcomm has bundled its upcoming juggernaut with LTE Cat. 10 modem, while the X20 sports a Cat. 6 radio only.