MediaTek unveils the first ten-core mobile chipset, Helio X20
33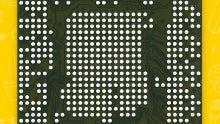 Pushing the boundaries are we, MediaTek? The up-and-coming chipmaker just made the long-rumored mobile
Helio X20
chipset official, in all of its ten-core glory. Yep, you read that right, the speculations were all true, and the X20 boasts ten Cortex cores in a
big.LITTLE
configuration.
Well, the way MediaTek achieved this is a bit iffy, as we have two powerful
Cortex-A72
units, clocked at 2.5 GHz, then four lowly Cortex-A53 pieces, running at 2 GHz maximums, then a quad pack of Cortex-A53s again, which has been clocked the lowest, at mere 1.4 GHz. MediaTek calls this a tri-cluster approach, but, surprisingly, all this innovation is aimed at the upper midrange phones of the future, as suggested by the inclusion of only two powerful Cortex-A72s.
The system-on-a-chip (SoC) kit also includes MediaTek's integrated LTE Cat. 6 modem, which allows for up to 300Mbps download speeds, if your carrier can provide those, of course, and all main wireless radios, too. The graphics prowess has been relegated to the yet-announced ARM Mali-T800 GPU, which should be just a step below the scorching Mali-T880.
The tiny fly in the ointment is that Helio X20 supports "only" DDR3 RAM memory, but MediaTek argues that, since the SoC maxes out at Quad HD display support, DDR3 will be plenty. All that jazz is stuffed into the footprint of the current X10, as the X20 is done with the 20nm production process, and yet it offers 40% stronger performance than the X10, at the same time consuming 40% less power. The deca-core Helio X20 will be sampling to customers in H2 2015, which likely means we will see the first handsets or tablets with it for the holidays at the earliest, and most likely in Q1 of next year. Check out the full X20 specs in the slideshow below.