ARM details Cortex-A72: Intel Core-M performance coming to your phone
31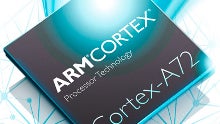 ARM introduced a couple of new chips for 2016 including the
Cortex-A72
processor and the Mali T-880 graphics chip not long ago, and today the company detailed the new A72 further. In addition to the Cortex-A72 processor being with 20-60% increase in instructions-per-clock over the current Cortex-A57 king (read:
HTC One M9
and
Galaxy S6
), it can also consume up to 75% less energy than last year's ARM finest.
While the figures above can be attributed merely to the generational die shrink, as ARM is aiming the Cortex-A72 architecture at the 16nm production process, it is interesting to note that ARM is now directly comparing its flagship processors with Intel's 14nm ones, like the latest
Core-M
you will find in many laptops, hybrids and ultrabooks currently on the market.
That sheer chutzpah of ARM is not without merit, though, as you can see in the chart above, as the Cortex-A72, which can be clocked at up to 2.5 GHz maximums per core, barely budges against the Core-M, but at a much smaller power consumption. These are exciting times, and we can't wait for the first phones with the architecture to hit the market, as both Qualcomm, MediaTek, and, we'd assume, Samsung, too, are on the list of Cortex-A72 licensees.