MediaTek's new 10-core Helio X20 promises up to 30% better power efficiency
29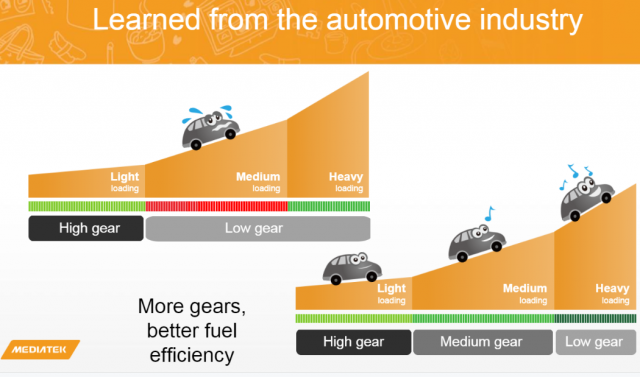 MediaTek officially unveiled its new tri-cluster, deca-core (yes, that's ten CPU cores) Helio X20 system-on-a-chip yesterday, and it provided one huge reason for the move to such a novel tri-cluster design. First, let's remind you that by tri-cluster, MediaTek refers to its trio of various cores running at various speeds: you have one high-performance, benchmark-friendly dual-core Cortex A72 cluster that is clocked at 2.5GHz; then you have a quad-core cluster of Cortex A53s clocked at 2GHz, and finally, another quad-core cluster of A53s, this time clocked at 1.4GHz. Altogether, this makes for 10 cores, which MediaTek has to wire up by a brand new custom interconnect it calls MediaTek Coherent System Interconnect (MCSI).
MediaTek speaks about this new tri-cluster design as adding a 'middle' gear to the low and high gears of big.LITTLE designs. And if we look technically, the MediaTek Helio X20 could factually even go for a four-cluster design given that it is the first SoC to come with an integrated Cortex M4 ultra power-efficient core that is capable of taking all the load when your screen is locked and you play back music (it also kicks in for voice recognition and handles sensor data).
With all these claims about up to 30% increased power efficiency being the main benefit from this multi-cluster Helio X20, we were pleasantly surprised to see a bit more concrete details with specific app usage power stats and a comparison with dual-cluster, big.LITTLE designs. Here is how much MediaTek claims to have improved power efficiency in key apps: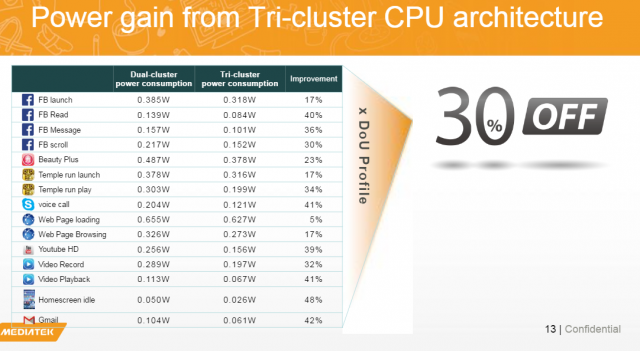 It's unclear, though, whether this is a true apples-to-apples comparison with both the dual-cluster and the tri-cluster X20 being 20nm chips. If MediaTek is comparing chips manufactured on a different node, that could be misleading, so we'd be looking forward to hearing a clarification.
For what it's worth, MediaTek's Helio X20 chips will sample in the second half of 2015, and the first devices with it are expected in the first quarter of 2016.
source: MediaTek