HTC's latest complaint against Apple is heading to the ITC
23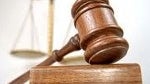 On Tuesday, the International Trade Commission said it will investigate the latest charges made by HTC against Apple. Earlier this month, we reported that
HTC had sued Apple based on the alleged infringement of 9 patents
that the Taiwan based company received from Google on September 1st. Now, the ITC is taking a look at claims by HTC that
Apple infringed on 5 of those 9 patents
. Of the 5 involved with this ITC investigation, 3 originally came from Palm and the balance from Openwave. The ITC now has 45 days to give out an estimate as to when it will make a final ruling on the case, which is expected to last 18 months.
The back and forth feud between
the Hadfields and the McCoys
HTC and Apple started this past March when the latter accused
HTC of illegally using 20 Apple patents
having to do with the Apple iPhone. HTC came back in May with a countersuit filed with the ITC claiming that the Cupertino based firm infringed on 5 HTC patents. Apple then won a preliminary victory in July when the
ITC ruled that a pair of Apple's patents were infringed upon by HTC
. However, that ruling was not made by the full 6 member commission and is
scheduled to go under review on December 6th
at which time, the ITC will delve into two more patents that HTC is alleged to have used illegally. And on top of that, Apple had filed another a second complaint with the august international body.
The ITC cannot force a company to pay a fine to another firm. What it can do is to
block imports of a product
it rules is infringing on patents. Most companies settle a dispute with the threat of ITC action hanging over the head of the defendant company. In this case, some analysts have been predicting that an Apple victory will lead to high royalty payments for those who produce phones using Google's open source OS. Some analysts have said that the patents that the ITC has ruled were infringed upon by HTC are also used by other Android device makers. But these handset manufacturers don't want to be forced to give up all of their profits. Already,
HTC is rumored to pay $5 to Microsoft for every Android phone the company makes
.
source:
AppleInsider