HTC's Sense 8 UI leaks in screenshots, might arrive with 'Freestyle' home screen layouts
40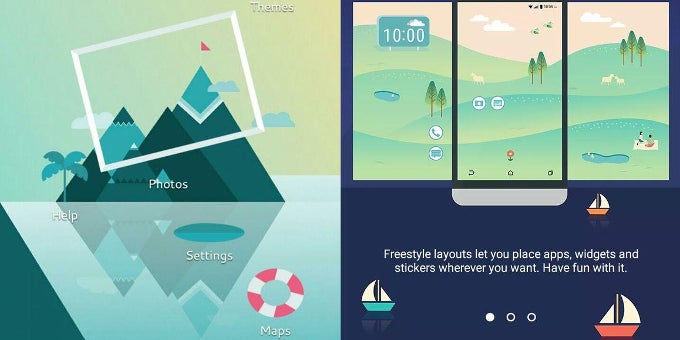 We are expecting HTC to announce its long-awaited flagship on April 12, but this hasn't put an end to all the leaks. Quite the contrary, as the announcement date nears, we get more and more tidbits of info regarding its anticipated HTC 10. Earlier today, we stumbled upon a seemingly-real specs sheet about the phone, which
left almost nothing to the imagination
.
And now, another rather important aspect of the phone might have made its expected, but unofficial debut. A couple of screenshots just popped up, claiming to show HTC's Sense 8 UI in the flesh, and boy, isn't it a far cry from previous Sense iterations!
Chief among the novelties are the so-called "Freestyle layouts", which seemingly enables users to place app icons, widgets, and stickers wherever they want on the home screens and likely customize the appearance of these. Well, you can do this on any Android device, but stock manufacturers' launchers are not as flexible as the numerous third-party offerings, like
Nova or Apex
, which have way more customization options in tow.
Sense 8 might be taking a few pages from their books with Sense 8 UI, though it remains to be seen to what extent exactly. This will be a welcome decision if it's well-executed by the Taiwanese phone manufacturer, as more features are hardly a bad thing to have! Of course, we will have to wait for a few days before we see if the screenshots below are the real deal or not.
Additionally, there seem to be no on-screen navigation buttons. This is a clear indication for the presence of capacitive hardware ones, which is in line with what we expect from the HTC 10. For the time being, take them with some salt, but make sure to share your thoughts, if you have any!
Further reading: