HTC video shows the Making of the HTC EVO 4G LTE; was a 3D model scrapped?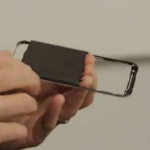 Want to know what the thought process was behind the design of the
HTC EVO 4G LTE
,
just announced this past week
? The Taiwan based manufacturer has produced a video that shows many of the people behind the new device as they relay why they did this or did that to the handset. At about the 23 second mark, we see the camera quickly pan over what appears to be discarded alternate designs for the model and one of them features a dual camera-dual LED flash that is certainly reminiscent of the HTC EVO 3D.
not given up on the technology
.
Moving back to the HTC EVO 4G LTE, the video shows some of the goals of the HTC designers including making the looks of the phone unique so that it can be instantly recognized as coming from HTC and the use of soft touch coating to make a two-tone design out of one piece of aluminum ("That's magical," says an HTC employee). 100 custom designed machine cutters were used in the process of developing the phone and while it
looks like all the hard work has paid off
, we won't know until the phone launches whether it is a success. Pre-orders are scheduled to start May 7th at the quite reasonable price of $199.99 with a 2-year pact.
source:
AndroidandMe
,br>