HTC teases One Max in a new infographic of history's greatest trios
15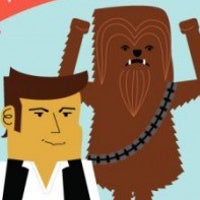 The HTC One launched early this year with a signature and quite unique aluminum unibody design, and it remains on of a very few extremely well designed, premium feeling Android smartphones. Later in the year, the HTC One mini, a slightly smaller, 4.3" version of the HTC One launched keeping the design appeal, and now HTC teases that it's about to complete the trio of One's with the
HTC One Max
.
The hint for that comes from an infographic HTC published entitled "Great trios in history." In it, HTC, a company that itself is a three-letter abbreviation, mentions "there are so many more trios, and a new one about to be completed."
So yes, with all rumors, leaks and images of HTC's upcoming phablet, the HTC One Max, we're allegedly very close to HTC completing its 2013 trio. The One Max is rumored to feature a huge 5.9" 1080 x 1920
pixel
display and run on a Snapdragon 600 system chip with 2GB of RAM. Best of all, it'd come with a huge 3200mAh battery and a fingerprint sensor on its back.
HTC teases One Max in a new infographic of history's greatest trios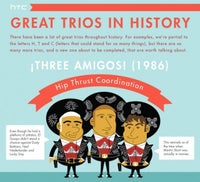 source: HTC via
AllThingsD