HTC might employ Bose to shrink the BoomSound speakers, thinning bezels to fit a larger One display
37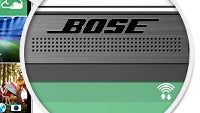 HTC is prepared to take its relationship with sound to a whole new level, it seems, as a rumor surfaced that it has partnered with the audio juggernaut Bose to work on the next generation of
BoomSound
speakers in the follow-up edition of its One flagship phone line. Not only that, but the new tag team is allegedly tasked with diminishing the size of HTC's current amplified stereo speakers set, so that the top and bottom bezels can be shrunk further.
A thinner bezel would thus allow for HTC to fit a larger display in its flagship handsets, as the One (M8) is about the height of the
LG G3
now, while hosting a 5" display, against the 5.5" panel of LG's finest. Granted, the One (M8) is much more narrow, so it's easier to grab and hold with one hand, but still. If HTC manages to pull the bezel shrinking part off, and maybe put a camera with bigger resolution in its next flagship, the like of Samsung, LG and Sony might have a veritable competitor against their own monstrosities.
HTC already has a Harman/Kardon edition of its flagship One (M8)
, so other audio collaborations are not out of the question, too.
Recommended Stories