HTC markets the One with a new Bachelorette parody ad
13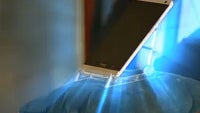 HTC had two great phones last year with the HTC One X and the One S, and this year it has outdone itself with the unibody aluminum beauty that is the HTC One, but as it makes gorgeous designs, the company continues lacking sorely in marketing. And this last push does not seem to help.
HTC has produced a downright cheerless The Bachelor parody. Good job for getting Internet meme star James Van Der Beek, but with a terrible script things just aren't funny.
So what is this new ad all about? Well, the HTC One appears to be fighting (and spoiler - winning) a bachelorette's attention. It is "the One one." The true love. Would she prefer it over a real person and a bunch of other phones (an iPhone spoof is also in the mix). Take a look at the unfunny parody below.
source:
Funny or Die
The One with James Van Der Beek - watch more funny videos