HTC is making a blockchain phone
20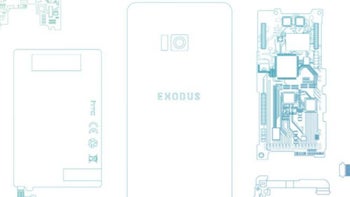 HTC has just confirmed that it is making the "world's first major blockchain phone", a mysterious device that is likely to cost around $1,000 and that allows the user to own their digital identity.
The upcoming device bears the HTC "Exodus" codename, but details about it are covered in mystery and the only thing that we have about this phone is a blueprint drawing. HTC has previously said that it is working on such a phone, but just recently confirmed the details and now commits to releasing it by the end of the year and revealing further details about pricing towards the third quarter of this year.
HTC has even created a weird chief crypto officer position in the company and here is what this new CCO says about the upcoming phone:
In the new internet age people are generally more conscious about their data, this a perfect opportunity to empower the user to start owning their digital identity. The Exodus is a great place to start because the phone is the most personal device, and it is also the place where all your data originates from. I'm excited about the opportunity it brings to decentralize the internet and reshape it for the modern user.
The phone will be all about the unique approach to user data that is available in the blockchain and the security and protection that come with it. Here is the whole appeal of this new phone, summarized in one sentence:
"We envision a phone where you hold your own keys, you own your own identity and data, and your phone is the hub."
The upcoming phone will be available all throughout the world with one important exception:
"I want to say it will be available definitely everywhere outside of China,"
the executive further clarifies.
"China has different rules, everywhere from regulations to how Android even works in China."
Will this be the mass-market phone that will save HTC and bring it back to its glory? It does not sound so, as the upcoming HTC Exodus sounds like a niche device aimed at a particular group of users, but we're yet to see whether it will have any mass-market appeal.
To help with that aspect, HTC has also partnered with popular game Cryptokitties where you digitally trade cats, a fun way of exploring the blockchain.
source: HTC