HTC introduces the DROID Incredible 2, to be launched April 28th at Verizon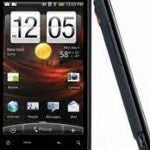 The HTC DROID Incredible 2 is now official, confirmed by HTC and the manufacturer says that the device will launch April 28th at Verizon. The price is $199.99 with a signed two-year contract.
The sequel to one of Big Red's most popular Android devices, the DROID Incredible 2 offers a slightly larger 4 inch Super LCD display than the 3.7 inch screen found on the first model. An 8MP camera remains on the back and a 1.3MP front-facing shooter has been added to the model. Android 2.2 is aboard with a 1GHz processor under the hood. 768MB of RAM graces the handset which comes with a pre-installed 16GB microSD card. This time around, the DROID Incredible 2 is a world phone which means it has both a CDMA and GSM radio inside, allowing you to roam while overseas.
The original HTC DROID Incredible was so popular that almost immediately after its launch, Verizon had to put the device on back order. A shortage of AMOLED displays from Samsung, who needed them for its own Galaxy S phones, contributed to the situation and forced HTC to switch to using a Super LCD display so that supply and demand could even out. Hopefully Verizon customers won't experience the same thing this time around with the sequel.
source: HTC