HTC had a miserable Q4, but a wonderful December
16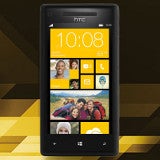 Sure, the fourth quarter of 2012 might have been
HTC's most miserable quarter yet
, with revenue dropping to just $2.07 billion, but there's still hope for the Taiwanese manufacturer, as it has obviously had a stronger-than-usual December.
Taking a closer look at the statistics, we can see that December has actually been a better month than November, by 1.6% in terms of sales growth. While this may seem ridiculously low, it should be noted that December is stronger for retailers, not manufacturers. That's because all the handsets sold by retailers get shipped by the manufacturers in November. Because of this, having a better December than November, even by a small margin, should be seen as a good sign for HTC's future.
Actually, the company has found itself in an interesting situation right now. While it's struggling on the Android front, due to strong competition from Samsung, it has managed to produce the successful
Windows Phone 8X
and
8S
handsets and claim a respectful spot amongst the ranks of WP8 handset manufacturers. Still, we shouldn't forget about the wonderful
DROID DNA
, which is a model that still very few other Androids can match. Whatever HTC's destiny is, you can be sure that we'll keep you posted.
via:
BGR