HTC Wind gusts in: affordable dual-SIM One S look-alike running Ice Cream Sandwich
5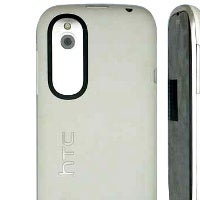 The HTC Wind, also known by its robotically romantic HTC T328w model name, surfaced in China and it's a strange yet interesting mix-up of features. First off, it looks almost like the recently announced HTC One, but should be much more affordable and allegedly comes with dual-SIM functionality. It also runs on Android 4.0 Ice Cream Sandwich, which is a definite plus.
Why is the HTC Wind a strange mixture? First and foremost, we haven't seen a dual-SIM handset by HTC yet. So, even though the pictures of the phone are definitely real, we would take the dual-SIM support with a grain of salt for the moment - it might not be there actually.
What seems to be certain is the rest of the specifications. Here are the highlights of the HTC Wind specs:
- a 4-inch Super LCD WVGA screen,
- runs on ICS skinned up with Sense UI 4.0,
- features a 1GHz single-core processor,
- 512MB of RAM,
- 4 gigs internal memory, expandable via microSD,
- 5-megapixel rear camera,
- 1,650mAh battery.
Nothing impressive, but what should impress is the price tag set at 2,000 Chinese yuan or around $315 off contract. At that price, the HTC Wind will be fighting against mostly Gingerbread-flavored Android mid-rangers, so it's got the head start. And if you're wondering when and whether can you get it, it's hard to say. There's no release date announced yet and we don't actually know if the handset will be available outside of China. Hoping that it will be, how do you like what you see?