HTC Vivid benchmark tests
16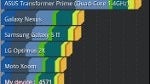 In order to complement a handset's peppy
4G LTE connectivity
, it has to be packing something remarkable under the hood to justify its claim to be a top-shelf smartphone. Certainly, we can say that about the
upcoming HTC Vivid for AT&T
because it features a
1.2GHz dual-core Qualcomm Snapdragon S3 processor
, which is coupled with a sizable 1GB of RAM. So what does that all mean for this soon-to-be available smartphone?
For starters, its performance out of the box is very similar to other recent smartphones from HTC's camp – like the
HTC Sensation 4G
,
EVO 3D
, and Amaze 4G. Even though its processor speed is clocked down from what's found with the HTC Amaze 4G, it's able to still deliver a responsive platform experience with very little evidence of slowdown or lag. However, turning on a live wallpaper to test out its strength, we
do
witness just a subtle about of
jerkiness
with its movement – though, it's nothing detrimental at all.
Moving onto the nitty gritty, our first task at hand was to see what numbers it could pull out running the
Quadrant
benchmark tests. Unsurprisingly, it boasts scores that are expected, but nothing mind-blowing when you compare them against the competition – say like the
Samsung Galaxy S II
. In fact, we're able to get scores ranging between
1,500 and 2,094
running the test a few times over. Granted that they're nothing to brag about, it's consistently hitting the 2,000 mark on the average. Meanwhile, running the
AnTutu
benchmark test, it's given an overall score of
4,571
, which again isn't mesmerizing – but rather, something that's typical from what we've been seeing with other HTC smartphones of late.
Beyond the numerical scores that benchmark scores provide, we're accepting of the HTC Vivid's performance out of the box – mainly because it's real-world execution appears to be in standard high-end fashion for an HTC smartphone.