HTC EVO 3D benchmark tests
48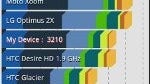 With the EVO moniker in place, there's no denying that theHTC EVO 3D is going to be one blistering Android powered smartphone, but evenmore when it's packing a 1.2GHz dual-core Qualcomm Snapdragon MSM8660 processorwith 1GB of RAM and an Adreno 220 GPU. Adding to the fact that it's offeringthe Android 2.3 Gingerbread experience with Sense running on top of it, we'resurely going to be greeted with one 3D intensive experience from head to toe.
Quickly perusing various things with the handset, it's undoubtedlyresponsive with its operation – and the experience is tastefully complementedwith some tricked out looking 3D effects and transitions. Of course, it comesacross as one fast handset, but to give us a general idea of how it comparesto some of the competition, we just need to run a couple of quick benchmarktests to see where it stands.

Running the Quadrant benchmark test first, wemanage to get scores ranging between 1,842 and 2,230. Indeed respectable for adual-core processor, we've actually seen better results with devices like the LG Optimus 2x and Samsung Galaxy S II. Secondly, we ran the AnTutu benchmark testwhere it puts up a total score of 3,210. Again, it's a respectable mark, but itdoesn't blow anything out of the water compared to the Motorola XOOM and LGOptimus 2x.
Seeing all the glitzy looking effects in play with Sense, we'restill nonetheless pleased with the HTC EVO 3D's performance so far. Naturally,it always comes down to the real-world experience to fully gauge how well adevice executes – and in the case of the EVO 3D, it's doing a good job so far.Regardless, we'll be putting it through some further testing to see how itcomes out in the end.