HTC Vivid announced with LTE and HSPA+ for AT&T's network, records 1080p video with 60fps
34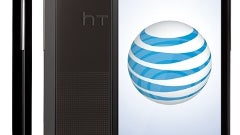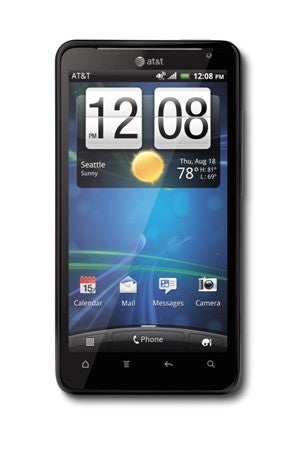 The HTC Vivid records 1080p HD video with 60fps
Look, Ma, it's
the HTC Holiday
, which lands with the official title
HTC Vivid
! Regardless of the name swap, AT&T just confirmed all the specs we've been hearing about the handset, which, along with the
Samsung Galaxy S II Skyrocket
, will be the first one to take advantage of the carrier's fresh 4G LTE network.
We have the ginormous 4.5" display with qHD 540x960 pixels that's been whispered down the halls of tech blogs, dual-core 1.2GHz Qualcomm chipset, 16GB of memory, and "enhanced" 28mm 8MP camera with f/2.2 aperture, which records 1080p video with... hold on...
60 frames per second
! We thought such frame rates are not coming until the quad-core chips, but here they are, according to the official press release.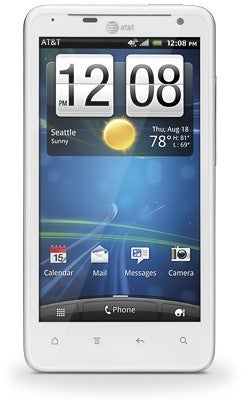 HTC Vivid comes in white, too
Of course, we have the newest HTC Sense UI with the fancy lock screen, and the advantages of AT&T's LTE/HSPA+ 4G combo, which allows you to fall back on still decent speeds when you leave the carrier's still-narrow LTE coverage. The best part is that the handset will be available starting November 6 for your usual high-end $199.99 sticker price.
You can use it with
DataPlus
, which gives you 200MB a month for $15, or
DataPro
- 2GB for $25 a month. Each additional GB, however, is $10. If you go over the 200MB limit of Data Plus, you get slammed with $15 for each additional 200MB, too.
AT&T managed to deliver an exciting first LTE handset at a decent price and with almost immediate availability. Now the only thing left is to wait for its LTE footprint to expand beyond the few gateway cities that currently sport it.
HTC Vivid and Samsung Galaxy S II Skyrocket, Both Android Smartphones, Will Run on AT&T's 4G LTE Network
DALLAS, Oct. 31, 2011 /PRNewswire/ -- Starting next week, more AT&T customers will be able to enjoy fast 4G LTE (Long Term Evolution) speeds on new devices – including the first AT&T 4G LTE smartphones – in even more markets.
Key Facts
AT&T* introduced two new Android™ smartphones, the first to be AT&T 4G LTE-capable.
HTC Vivid™ and Samsung Galaxy S™ II Skyrocket™ will arrive in AT&T company-owned stores and online Nov. 6.
AT&T 4G LTE service will launch Nov. 6 in Boston, Washington, D.C., Baltimore, and Athens, Ga.
AT&T offers the only smartphones able to utilize both LTE and HSPA+ 4G speeds, for a consistently fast connection in and out of LTE areas.
The Nov. 6 launches expand AT&T's 4G LTE network to 9 markets, including Atlanta, Chicago, Dallas-Fort Worth, Houston and San Antonio, and it plans to reach 15 markets and 70 million Americans by year-end 2011.
AT&T exceeds commitment to offer 20 4G devices in 2011, addition of LTE smartphones on Nov. 6 brings 4G total to 22.
AT&T far exceeds commitment to deliver 12 Android devices in 2011; new LTE smartphones bring total to 21.
Realize the full power of LTE on the HTC Vivid with fast web browsing, powered by a dual core 1.2 GHz processor and a brilliant 4.5-inch qHD display. Music and Android Market apps download and are ready in a snap, or photos and video are a breeze to upload after using the exceptional camera for low-light photos and full widescreen HD video.
HTC Vivid features the acclaimed HTC Sense user experience, which includes a customizable active lockscreen that transforms the display into a real-time window to your most important information and content, such as social updates, photos, weather or stock updates that are viewed by simply waking up the display. Sharper graphics, vibrant animations and new widgets make HTC Sense better than ever and, by continuing to focus on the details, HTC provides a more cinematic and immersive multimedia experience with stunning imagery and audible weather effects.
4.5-inch qHD display (540x960 pixels)
1.2 GHz dual-core processor
Enhanced 8-megapixel camera with f2.2 28mm wide angle lens for low light photos
1080p HD video recording at 60 frames per second, slow motion playback and on-device trimmer to optimize social media uploads and memory space
16 GB of on-board memory, microSD expandable to an additional 32 GB
The HTC Vivid will arrive in AT&T company-owned retail stores and online Nov. 6 for $199.99 with a two-year commitment. Customers can learn more at www.att.com/speed.
Samsung Galaxy S™ II Skyrocket™
Lightning fast reflexes powered by a 1.5 GHz dual core processor and AT&T 4G LTE speeds make the Galaxy S II Skyrocket faster for Web browsing and all your favorite apps. A SuperAMOLED Plus display spanning 4.5-inches is the brightest, most colorful screen on the market.
4.5-inch SuperAMOLED Plus display (800x480 pixels)
Android Gingerbread (2.3.5)
1.5 GHz dual-core processor
8-megapixel rear-facing camera with LED flash, with 2-megapixel front-facing camera
1080p HD video recording
16 GB of on-board memory, microSD expandable to an additional 32 GB
The Samsung Galaxy S II Skyrocket will arrive in AT&T company-owned retail stores and online Nov. 6 for $249.99 with a two-year commitment. Customers can learn more at www.att.com/speed.
Customers can choose from tiered data plans starting as low as $15 per month. Existing smartphone customers do not have to make changes to their data plan. All plans include access to AT&T's national Wi-Fi network of more than 29,000 hotspots.
DataPlus provides 200 megabytes (MB) of data for just $15 per month. An additional 200 MB of data usage is $15.
DataPro provides 2 gigabytes (GB) of data for $25 per month. An additional 1 GB of data is $10. Customers who want to use their device as a mobile hotspot can sign up for DataPro 4GB for $45 a month, which lets you tether or share your data connection across multiple devices.
Customers can view all smartphone data plans at www.att.com/dataplans.
AT&T continues to expand its 4G LTE footprint. The four markets launching Nov. 6 join Atlanta, Chicago, Dallas-Fort Worth, Houston, and San Antonio, which were launched in September. AT&T is the only U.S. carrier providing 4G service using both HSPA+ and LTE. HSPA+, when combined with enhanced backhaul, provides customers with 4G speeds, meaning customers get a faster and more consistent 4G experience, even when outside of an AT&T LTE area. Customers of other carriers that have transitioned to 4G LTE without further speed upgrades to their existing networks are likely to see a jarring drop-off in speeds when they move out of LTE coverage.
"The two LTE-powered superphones will be our 20th and 21st Android devices in 2011, adding to an outstanding year of Android success," said David Christopher, chief marketing officer, AT&T Mobility and Consumer Markets. "We've far exceeded our commitment to offer 12 new Android devices this year –now including our first 4G LTE smartphones. We're delivering an incredible amount of innovation to our customers, which is a huge reason why more than half our post-paid subscribers are using a smartphone."
"We are thrilled to continue growing our relationship with AT&T and excited for the HTC Vivid to be one of the first LTE devices on AT&T for the holiday season," said Jason Mackenzie, president of global sales and marketing, HTC. "The HTC Vivid combines an exceptional display in a premium device that delivers a powerful smartphone to our customers through AT&T's fast LTE and HSPA+ 4G networks."
"AT&T's LTE network allows for quicker access, smoother streaming and faster web experiences, especially when using the powerful Samsung Galaxy S II Skyrocket," said Todd Pendleton, chief marketing officer, Samsung Telecommunications America. "Pairing the Galaxy S II Skyrocket with AT&T's LTE speeds, creates the ultimate smartphone experience."
Limited 4G LTE availability in select markets. 4G speeds delivered by LTE, or HSPA+ with enhanced backhaul, where available. Deployment ongoing. Compatible device and data plan required. LTE is a trademark of ETSI. Learn more at att.com/network.
*AT&T products and services are provided or offered by subsidiaries and affiliates of AT&T Inc. under the AT&T brand and not by AT&T Inc.
About AT&T
AT&T Inc. (NYSE: T) is a premier communications holding company and one of the most honored companies in the world. Its subsidiaries and affiliates – AT&T operating companies – are the providers of AT&T services in the United States and around the world. With a powerful array of network resources that includes the nation's fastest mobile broadband network, AT&T is a leading provider of wireless, Wi-Fi, high speed Internet, voice and cloud-based services. A leader in mobile broadband and emerging 4G capabilities, AT&T also offers the best wireless coverage worldwide of any U.S. carrier, offering the most wireless phones that work in the most countries. It also offers advanced TV services under the AT&T U-verse® and AT&T | DIRECTV brands. The company's suite of IP-based business communications services is one of the most advanced in the world. In domestic markets, AT&T Advertising Solutions and AT&T Interactive are known for their leadership in local search and advertising.
Additional information about AT&T Inc. and the products and services provided by AT&T subsidiaries and affiliates is available at http://www.att.com. This AT&T news release and other announcements are available at http://www.att.com/newsroom and as part of an RSS feed at www.att.com/rss. Or follow our news on Twitter at @ATT.
© 2011 AT&T Intellectual Property. All rights reserved. Mobile broadband not available in all areas. AT&T, the AT&T logo and all other marks contained herein are trademarks of AT&T Intellectual Property and/or AT&T affiliated companies. All other marks contained herein are the property of their respective owners.
Cautionary Language Concerning Forward-Looking Statements
Information set forth in this press release contains financial estimates and other forward-looking statements that are subject to risks and uncertainties, and actual results might differ materially. A discussion of factors that may affect future results is contained in AT&T's filings with the Securities and Exchange Commission. AT&T disclaims any obligation to update and revise statements contained in this news release based on new information or otherwise.
SOURCE AT&T Inc.