HTC Sensation 4G for T-Mobile benchmark tests
29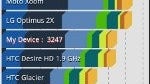 T-Mobile customers have something to be absolutely excited about, especially when they're going to soon be able to grasp yet another dual-core processor packing handset in the carrier's offering with the upcoming
HTC Sensation 4G
. Indeed sensational on so many levels, even more when it's packing some improved hardware under the hood versus some other recent offerings, the
1.2GHz dual-core Qualcomm Snapdragon processor
combined with 768MB of RAM that it's packing should make the experience more than acceptable.
In terms of user experience thus far, we undoubtedly satisfied since it exhibits a reasonable amount of responsiveness with various actions – such as opening up apps, navigating across its homescreen, and kinetic scrolling. Coughing up some astonishingly nice looking 3D visuals with its interface, there's no arguing that the CPU is chugging along to provide a satisfactory experience, but as always, we're sure there are some people curious to know what kind of
results it'll dish up with certain benchmark apps
.
With that in mind, we first decided to run the
Quadrant Benchmark app
where it manages to obtain scores between
1,914 and 2,311
– though admirable, it's not mind blowing compared to some other handsets we've checked out. Additionally, we ran the
AuTutu Benchmark app
and it dishes out an overall score of
3,247
. Again, it's considerably better than the average, but nothing extravagant to position it as a true competitor to things like the Samsung Galaxy S II.
Regardless of that, the performance it's exhibiting so far proves itself since it's not slowing down to hinder the overall operation of the handset. Furthermore, combining the fact that Sense is featuring some serious looking visuals compared to the competition, it's nice to see that the processor is keeping up in presenting us with a responsive experience thus far.
Recommended Stories