HTC ThunderBolt is officially Verizon's first LTE handset, come March 17th
72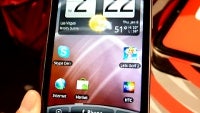 Hey, Verizon finally sent us the press release for the HTC ThunderBolt in an official manner, after the leaks and shouts in the last few days reached
crescendo level
!
Here we have it - the first phone to take advantage of Verizon's expansive 4G LTE network ushers us in a new era, where waiting for pages to download, or hiccups while streaming high-quality video to our handsets should be a thing of the past.
With Thursday availability, both in stores and online, the HTC ThunderBolt is actually your typical high-end HTC handset, if we don't count the LTE radio inside.
4.3"
LCD display with 480x800 pixels,
1GHz
second-gen Snapdragon chipset, an
8MP
camera with flash, and a front-facing cam. The ThunderBolt has 768MB of RAM, and
scored around 2000 on Quadrant
even in prototype form.
Eight is also the number of GB of internal memory the phone has, and Verizon's presser officially confirmed that the phone comes with 32GB microSD card preinstalled, for a whopping
40GB of storage
out of the box. That feat alone is worth the $50 price difference from the other high-end horses in Big Red's stable.
Verizon's PR spin is that the phone is capable of
5-12 Mbps
download, and 2-5 Mbps upload speeds, which is very fast, and, judging from the LTE network behavior so far, should be stable and consistent across the board.
The price is nailed at
$249.99
on a two-year contract, and the handset can be yours come Thursday, March 17th. Wirefly
has it
on preorder for $199.99, bringing the HTC ThunderBolt to mere mortal prices, if you sign for a new contract.
As for the plans - you need to have a Nationwide Talk plan, and add 4G LTE data plan, which, as per the press release, is
$29.99 unlimited
, the same setup we have with Verizon's 3G phones. If you want to share that LTE love across your devices, and use the ThunderBolt as a Wi-Fi hotspot, you won't be charged to do so until
May 15th
, after that you can opt to continue for
$20 monthly, up to 2GB
, and then each GB extra will cost you another $20.
source:
Verizon
Recommended Stories