HTC ThunderBolt getting Gingerbread this quarter
19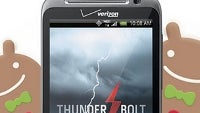 The HTC ThunderBolt was the first 4G-enabled smartphone on Verizon's speedy LTE network, but since its launch not much has changed with its software – the handset continues to run on the quickly aging Android 2.2 Froyo, even though back in March HTC spilled the beans about an upcoming Gingerbread update. Well, four months later, it's still coming, but this time we have a particular time period for it – the third quarter of the year.
HTC representatives have been spreading the word about the update which will add Gingerbread tweaks and features, and fix some problems along the way:
"We are working hard to address the issues you have mentioned with future updates for the device. We are excited to announce that the HTC Thunderbolt will receive the Gingerbread (Android 2.3) update in Q3 2011. Stay tuned for details as we get closer to the update availability," HTC replied to Droid-life.
We expect to see an improved Sense UI, but also Skype video and faster GPS lock after the update. Oh well, the third quarter of the year has already started so hopefully it's sooner rather than later.
source: Droid-life