HTC One M9 Plus leaks out: 5.5" QHD screen, Snapdragon 810, Duo Camera and finger scanner
45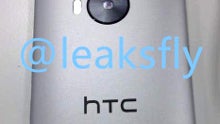 Well, well, well, lookie what we have here. Leaks are flying from all sides about upcoming HTC phones about to be unveiled in a month or so at the MWC, and a tipster account with the apt name @leaksfly strikes again.
This time it is not about the HTC One M9 "Hima" flagship, but something even better, dubbed One M9 Plus. While it doesn't look like the Plus moniker will depict a phablet, with much larger display diagonal than the M9 Hima, certain design differences indicate that this might indeed be a more upscale version of the M9. The tipster pegs it as having a 5.5" QHD display, Snapdragon 810 chipset, 3 GB of RAM, dual camera kit, and a finger scanner.
Alternatively, this might be the M9 itself, and the leaks we saw this week might be just prototypes, though given the major differences in design this is a dubious possibility. First off, the M9 Plus doesn't sport the signature BoomSound stereo speakers top and bottom and the front, like on the M9 we saw the other day, but rather employs a home button with an alleged fingerprint scanner below the screen. Moreover, when turned around, the M9 Plus winks at us with a huge camera lens, hinting that we might indeed see a 20 MP shooter in the upcoming HTC flagship(s), but it also sports a secondary camera lens at the top, just like the
Duo Camera
setup on the One (M8).
Thus, we might have two versions of the M9 - one straight flagship with a smaller screen and a 20 MP shooter, and one with the refocusing dual camera shenanigans, and a fingerprint sensor to boot. How exactly will this pan out, remains to be seen, and we will be at the MWC to relay all those exciting details to you as they happen.
Recommended Stories