HTC Droid Incredible reaches the 'End of Life'; Droid Incredible 2 coming?
12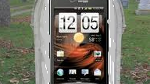 A Verizon document that was leaked last year had revealed a 3/31 "End of Life" (EOL) date for the HTC Droid Incredible. Now that this date is almost upon us, it is time to reflect on a handset that was at one time, Big Red's flagship device.
When launched, its 3.7 inch AMOLED screen was still considered big in size. The 1GHz Snapdragon processor was among the fastest available at the time and the 8MP camera captured 720p HD video.
Right from the get go, the huge demand for the device forced Verizon to put the phone on back order
. The demand was led by the nearly unanimous positive reviews from the cellphone media which created a huge buzz around the device.
Another reason why the device was so hard to find last year was a shortage in AMOLED screens. Samsung didn't produce enough of the display, not realizing what a success it would have with its own Galaxy S handset and its variants which included a different named version of the phone for each of the top 4 major U.S. carriers. The shortage of screens led to such a long delay in Droid Incredible production that many who ordered the phone were allowed by Verizon to change their order to the Motorola DROID X at no charge. When the phone returned, the AMOLED display was replaced by a Sony Super LCD screen as we
reported
.
Now, as Verizon prepares to bury the Droid Incredible, the HTC Droid Incredible 2 appears ready to take over. Spotted on the carrier's inventory system
as we told you
, the Droid Incredible 2 will be the Stateside version of the Droid Incredible S. A 1GHz Qualcomm MSM8655-the same chip seen on the HTC ThunderBolt-is under the hood and the display is bumped up in size to a 4 inch WVGA, TFT screen. 768MB of RAM is on board along with an 8MP camera with dual Xenon flash. That is an improvement over the dual LCD flash seen on the original model.
So as we say goodbye to the HTC Droid Incredible, we find ourselves wishing that we could have known this phone much better than we did, but the combination of strong demand and a parts shortage prevented the handset from getting the accolades it should have received. Now it is up to the HTC Droid Incredible 2 to keep the tradition alive.
source:
GottaBeMobile

Last year, a leaked Verizon document showed that the HTC Droid Incredible would reach its EOL on March 31st 2011