HTC Droid Incredible 2 appears in Big Red's computer system
11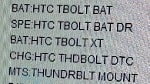 A leaked screenshot of Verizon's computer system reveals that the previously announced HTC Incredible S, a world phone sold only in the U.K., might be sold in the U.S. by Verizon as the HTC Droid Incredible 2. One screenshot shows a device with the model listed as HTC ADR6350. The other shot shows the HTC63503 listed as a display for the "INCRD2." While not a perfect match, a little bit of common sense can get you to the conclusion that a sequel is coming soon for Verizon's popular HTC Droid Incredible model.
So while details are sketchy for now, it looks like the original HTC Droid Incredible is finally being put out to pasture while getting apparently replaced by a world phone. We earlier
reported
that the Droid Incredible 2 is expected to launch in this quarter and all signs point in that direction.
source:
Engadget