HTC Droid DNA screen compared with HTC One X, iPhone 5, 1080p Sharp Aquos Phone
37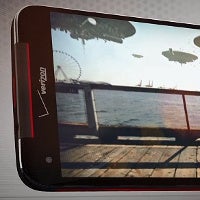 The HTC Droid DNA might be the first smartphone with a 1080p screen to arrive in the United States, but when it comes to the rest of the world, full HD displays are still a rarity. To fill that gap Sharp has now released its Aquos Phone SH930W which boasts a very similar 5-inch 1080p screen.
How does it compare against the Droid DNA? And how does the Droid DNA compare against the Samsung Android heavyweights and the iPhone 5? First of all, we should mention that having a 1080p display with a pixel density of 441ppi is great on paper but the difference to the eye is minimal. Actually, you can only see some jagged edges only if you go very, very close to the screen.
What really matters is the quality of the image and accurate calibration of colors. First, the brightness of the Droid DNA measures at 364 candela per square meter (cd/m2), which is less than say the HTC One X with its bright 470cd/m2 display.
And if you wondered whether the Galaxy S III or Note II have brighter displays, the Droid DNA clearly blows them out of the water as they both feature 230cd/m2 screens.
The comparison with the One X is logical because it is widely seen as probably having the best screen on Android. Interestingly, the One X also has better viewing angles than the DNA.
When compared to the iPhone 5, the Droid DNA does not look that bright and lacks the careful color calibration Apple takes pride in.
Last but not least comes the Sharp Aquos Phone SH930W, another 1080p smartphone, but much cheaper. While it does come with its hardware limitation, the screen on the Sharp device is also better calibrated than the one on the Droid DNA.
There is plenty more to learn from that in-depth comparison done by Hi-tech.mail.ru, so head on to the source below for a machine translated version of the article.
source:
Hi-tech