HTC Droid DNA lands in Verizon stores today
12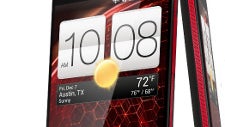 The
HTC Droid DNA
is the first of its kind, a 5-inch monster phone with 1080p screen resulting in a pixel density of 441ppi. And without getting too technical, that's a lot and means text will be clearer and easy to read, images will look even nicer, and you won't be able to spot a single pixel even when you get up close.
And today, the HTC Droid DNA finally arrives in Verizon Wireless' stores. You can get it for $199.99 on a two-year contract.
As a Droid phone it comes with a fun little slogan to
"upgrade your human specifications."
And it really is quite an upgrade. Still, the Droid DNA is the first of many to come. We expect all hell to break loose at CES and MWC with 1080p displays on phones from virtually every phone maker we can think of. Yes, hopefully the next Samsung Galaxy S phone as well.
But if you don't want to wait for that, just go to the source below to get the HTC Droid DNA.
source:
Verizon Wireless