HTC 10 to come with high-res earphones in certain regions only
43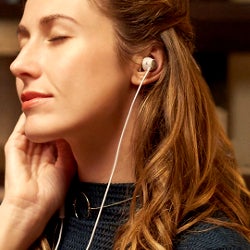 UPDATE
:
We got a rebuttal from HTC's Jeff Gordon, saying that the unlocked HTC 10 also won't sport the new hi-res earphones in the box. Sigh.
If we had to single out one differentiating factor in the new
HTC 10
, it wouldn't be the brand new 12 MP camera with larger than typical pixels, or the one-of-a-kind optical image stabilization system for the front camera, which you may or may not appreciate unless you are heavily into video chats.
These are all welcome, but the real unique proposition is the phone's audio prowess, as it sports two BoomSound speakers with a setup that resembles that of the
Huawei P9 Plus
- a tweeter at the top that doubles as an earpiece, and one woofer at the bottom for the base sound. While mimicking the setup of a good audio system on a phone won't fool any audiophile, the HTC 10 certainly offers more in the audio department than most other Android phones, so that is one true differentiation factor in its favor.
In addition, there is a headphone amp that apparently delivers much stronger output than is typical for a phone; combined with the dedicated DAC and the ability to upscale towards 24–bit audio, music listening should be one of a kind with the HTC 10. The sound story doesn't end here though, as we noticed a brand new set of hi-res earphones quoted to be in the box. Apparently, "
these Hi-Res audio certified earphones feature an 8µm thin aerospace-grade polymer diaphragm and 70% oversized drivers to pump out richer sound across twice the frequency range
."
Dedicated earphones to go with the dedicated DAC and amps on the HTC 10 sound great on paper, but what miffed us a bit was the fine print: "
Inbox accessories may vary from country to country. Please check with an authorized retailer or operator for availability
." Well, we checked with HTC, and it turns out that the high-res set will be included in the box of the
Unlocked HTC 10 variation that you can preorder on its site right now
. As for the carrier versions, when they hit the shelves, the HTC people said that they will most likely ship with regular headphones in the box. Looking at
T-Mobile's crazy unboxing video
, there are no high-res buds around the carton indeed. There you have it - that $699 price for the unlocked version straight from HTC just got a bit more palatable, after all.