HP is emailing TouchPad buyers informing them of a 6 to 8 week time frame for orders
2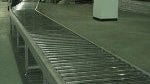 Not surprisingly, the
HP TouchPad
craze has ceased almost instantaneously after things have quieted down regarding the webOS powered tablet. As we all know, things took to a dramatic turn when HP decided to slash its price all the way down to $99.99, but as we've reported on several occasion, some people have yet to
receive their orders from HP directly
.
In order to flush out and consume
remaining supplier inventories
, it was reported that HP is planning to
produce additional units
in time for sale
during late October
. Interestingly, a recent
email
sent out by HP's
Small and Medium Business division
sheds some light on the entire situation. For these customers still waiting for their orders to arrive, the email from HP outlines that they intend on fulfilling all of their orders – albeit, it's going to take some time for them to accomplish that.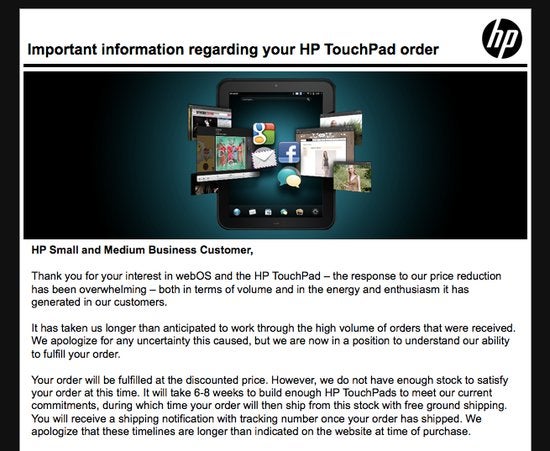 In fact, they outline a
6 to 8 week time frame
in building enough HP TouchPad units to accommodate all orders taken for the tablet thus far – and of course, it perfectly lines up with the reports of them resuming production in October. Once that's all taken care of, it's very certain that they'll more than likely throw one last round of sales before being completely tapped out. However, it's still unclear if they will actually have any leftovers after fulfilling all previous orders.
In any event, it's going to be sometime before we can expect to see sales ramping up again – but for those who managed to get in with some, consider yourself extremely lucky!
source:
HP
via
PreCentral
Recommended Stories