HP cancels some TouchPad orders placed through their web site?
12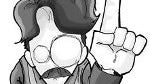 Soaking up the joy about buying something at a steal, you're generally ecstatic in the end when you punch in your credit card information and get that final page showing that your order has been placed.
Obviously, this is probably the experience that some people went through when
ordering an HP TouchPad online
through the various retailers out there – like HP,
Amazon
, and Barnes & Noble. However, it's undoubtedly frustrating to find out a few days after placing it that orders are going to be inexplicably canceled.
Recently, this is what happened to some people who ordered it through Amazon earlier in the week – well, it was actually this company called OnSale the one that handled the process. Unfortunately, it seems as though they oversold their inventory and actually had to cancel orders. Of course, it's not sitting well with those who were given the false hope of obtaining one.
Interestingly, HP might driving down the same path because one of our readers managed to inform us that a recording being played through HP's customer support hotline is informing them about the grim news. Specifically, it's played right away when calling up 866-625-0759 option 3 (track order). Simply, the recording states that orders
placed after 4:00 AM central time August 22nd
are going to be canceled.
Needless to say, that's rough news for those affected customers, but it really makes you wonder how they're able to oversell their very own inventory. Either that or some bug might've gotten in the way, but still, there are going to be some disappointed people out there.
Thanks Jon!