HP vows to make one last batch of TouchPads, your order not guaranteed
7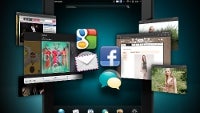 Perhaps feeling a bit guilty about its
suppliers sitting on tons of unused but manufactured parts for future HP TouchPads
, the largest computer manufacturer in the world promised one last batch for the taking, after it said
one more OTA update is coming
, too. At least we are hoping that's the reason, nothing else makes sense businesswise.
On the company blog HP's spokesperson Mark Budgel clarified: "
Despite announcing an end to manufacturing webOS hardware, we have decided to produce one last run of TouchPads to meet unfulfilled demand. We don't know exactly when these units will be available or how many we'll get, and we can't promise we'll have enough for everyone. We do know that it will be at least a few weeks before you can purchase
".
The HP TouchPad costs $306 to manufacture
, and it went on a fire sale for $99 after
HP announced the company is getting out of the consumer hardware business
. That willingness to lose $207 apiece with one final round is hard to explain, unless HP has already prepaid for the produced parts, and/or it wants to spread the ecosystem as wide as possible in case
anyone comes to license webOS
, or it decides to do something with it further down the road.
In any case, nobody guarantees that your order will be filled, and, in fact, HP has been sending out the following statement to people who have already placed one:
"
Thank you for your interest in the HP TouchPad and webOS. The overwhelming demand for this product in recent days has made it difficult to fulfill your request at the present time, and we are working to make more available as soon as possible. While we do not yet have specific details, we know

it will be at least a few weeks before we have a limited quantity available again.
"
There you have it.
source:
HP