Griffin's 'Digital Swiss Army Knife' combines a stylus, pen, and laser pointer for $50
4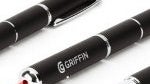 If you're a business professional or simply want to pretend to be one, then you might be interested in checking out Griffin's new toy that they're referring to as a
digital Swiss Army Knife
.
They announced today a new precision tool aimed at business oriented users out there that combines a
stylus, pen, and laser pointer
. Already, we've seen devices like the
HTC Flyer
and
upcoming HTC Jetstream
showing off the kind of advantages you get with the use of a
stylus
. Of course, Griffin's offering will eliminate a wide array of tools since it packs everything into one easy to carry along solution.
President of Griffin Technology, Mark Rowan said, "
Mobile computing is transforming the way we digest and share new information, and Griffin is at the forefront of this trend, continually launching innovative accessories that address the modern day consumer's needs
." Furthermore, he goes on to say, "
Our latest stylus is like a 'digital Swiss Army knife' in the way it maximizes functionality of mobile devices while remaining compact enough to slide easily into your pocket
."

Needless to say, it's one nifty accessory, but you'll need to shell out
$49.99
to pick one up and start acting all professional. If you're interested, you can pick it up online through Griffin's web site.
source:
Griffin