Google working harder to promote the Nexus One?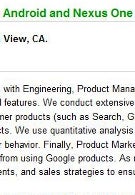 While Google's Nexus One is considered the closest Android device to the Apple iPhone, it is the Motorola DROID that has become the
leading seller
in the Android space. While Verizon has spent $100 million to promote the latter device, Google has basically limited promotion of the N-One to banner ads. The reason is the difference in how the two models are sold. The DROID is sold by its carrier, Verizon, at Big Red's retail stores, third party retailers like Best Buy, and online at Verizon's web site. The Nexus One is being sold by Google on the Mountain View based firms' online "phone store". The carriers are not involved in marketing or selling the phone. Can you see the mismatch here? On one hand, you have a company-Verizon-that spends huge sums on mainstream advertising and has expertise doing this. On the other side, you have a company like Google that really doesn't advertise directly to the public. But this is going to change.
On Google's web site, the company has posted a job opening for a Product Marketing Manager for Nexus One and Android. The job's goal is to increase sales and consumer awareness of the N-One. In reaching the goal, you will part of a team that develops and executes a Direct-to-Conumer marketing plan. You also will be making sure that the ad campaigns are reaching the intended recipient across all channels and checking in with global Android marketers to make sure that there is cohesion in local strategy and launches. The person who gets this job will become a quotable product and industry expert on all things Android. A Bachelor's Degree and 7 years work experience are just some of the requirements neccessary to apply for the job, For all of the requirements that a candidate must have, check out the source link.
HTC Nexus One US Specifications
|
Review
source:
Google
via
Phandroid