Google app gets updated to version 8.0, includes new feature "Your People" which is not yet live
2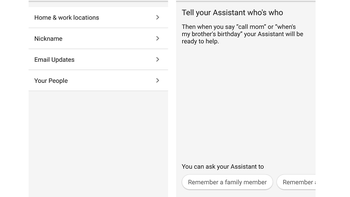 The Google app for Android has been updated to version 8.0. One new item is the addition of the "Your People" page, which apparently is a way for
Google Assistant
users to set up a link between nicknames and relationships to people in their contacts. This way they can tell the virtual assistant to call, text or email "Mom" and the virtual assistant will make the call, send a text or send an email to the correct number or email address. To see the "Your People" page, go to the Google Assistant settings and click on Personal info. From there, tap on "Your People" (see the screenshots at the top of this story).
The new feature is also supposed to be able to remind you of the birthday of one of "Your People." But the feature does not appear to be functional at this stage. However, if you want to link a nickname/relationship with a phone number from your contacts, there is a way to do it. To make the connection between a nickname/relationship and a name on your contacts list, follow these directions:
Open the Google app Google Search.
Tap Microphone Speak or say "Ok Google," then say a nickname for one of your contacts. For example, "Diane is my mom."
If you have multiple contacts with the same first name, pick the right person.
Under "Remember a relationship," tap Done Done.

After the nickname is added, you can contact them by saying things like "Text my sister" or "Email my mom."

Valid nicknames/relationships that you can link to include:
Mother/Mom/Mama/Mum
Father/Dad/Daddy
Brother
Sister
Partner
Grandfather/Grandpa/Granddad
Grandmother/Grandma
Wife
Husband
Son
Daughter
Niece
Nephew
Uncle
Aunt
Cousin
Assistant
Manager/Boss
Girlfriend
Boyfriend
To remove a nickname or relationship, simply tell Google something like "Jeff is not my boyfriend." When the contact appears, under "Remove nickname," tap on Done. As soon as the Your People feature goes live, we will let you know. Just have your people contact our people.
The new version of the app also contains some code that could hint at future features. For example, it appears that users will be able to use Google Lens not just on rear camera(s), but also with front-facing sensor(s). Other code string suggests that Google will allow users to set up custom routines to go off based on a schedule. We could also see Google Assistant on a smart display show video of the news, and not be limited to audio. We also could see the removal of Lite Mode, which allowed for the use of simplified search results, and the ability to browse the web using 80% less data. This mode used to be enabled automatically when a slow connection was detected. And Send to Device will disseminate information from a phone or smart display to another device.
source: 9to5Google