Google delivered more smart speakers than Amazon in Q1 for the first time ever
16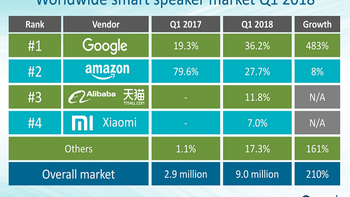 Amazon offered the first Amazon Echo back in 2015. As the creator of a new category, the Echo has the largest market share of installed units, and continued to top the sales charts each quarter. That is, until the first quarter of this year. First, let's step back to look at the big picture. Smart speakers are the fastest growing tech product and are made up of a speaker and a virtual personal assistant. For the three month period that ran from January through March, 9 million units were shipped globally according to research firm Canalys. That is a healthy 210% rise year-over-year.
As Paul Harvey used to say, "Now, the rest of the story." During the first quarter of this year, 3.2 million Google Home and Google Home Mini units were shipped worldwide. And that topped the 2.5 million Echo smart speakers that were shipped in the quarter by Amazon. To repeat, this was the first time that Google shipped more smart speakers than Amazon in a quarter. Google's shipments rose 483% compared to the 8% growth achieved by Amazon. Third place went to China's Alibaba, which shipped 1.1 million TMall branded smart speakers in the period. And number four was Xiaomi. The latter delivered more than 600,000 Xiao AI speakers in China from January through March. The "others" category, which includes the Apple HomePod, accounted for 1.56 million smart speakers shipped globally in Q1. In all fairness to Apple, the HomePod didn't launch until February 9th meaning that it was available for less than two full months during the three month quarter.
In the U.S., 4.1 million smart speakers were shipped from January through March, and the top three manufacturers were Google, Amazon and Apple. In China, a total of 1.8 million units were delivered with Alibaba, Xiaomi and DingDong ranked one through three, respectively.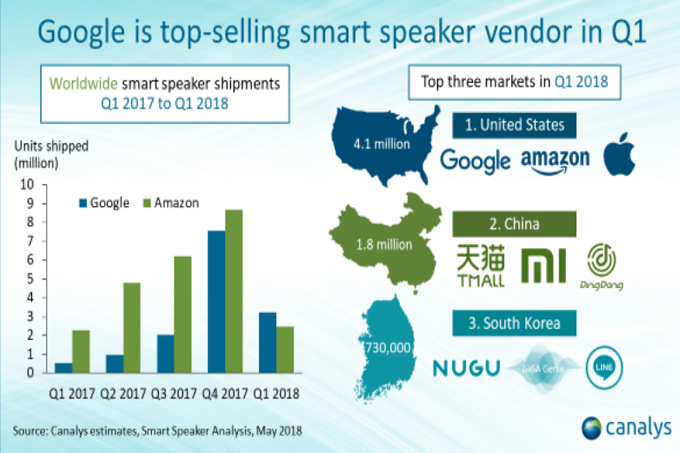 Shipments of Google Home smart speakers beat out Amazon Echo deliveries for the first time ever in Q1 2018