Google patent reveals the Android smartphone of the future
25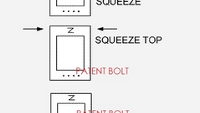 A patent issued to Google could reveal the Android phone of the future. According to the patent the phone's user will be able to navigate the phone by squeezing, shearing or splaying the device. Squeezing is obvious, but shearing to the right means sliding up the left side of the phone while sliding down the right side. Shearing to the left requires you to slide down the left side and slide up the right side. Splaying requires you to spread your fingers apart on the side of the phone.
The patent also shows which combination of gestures will be used for certain apps. In the email app, for example squeeze the top of the phone to scroll up. Squeeze the bottom of the phone to scroll down. While using the browser, squeeze the phone to move ahead a page. Splay the device to go back a page. Scrolling up and down requires the same gestures as on the email app.
There is no guarantee that Google will ever employ this technology, but it is something to think about. Soon, we might be applying pressure to our phone instead of using a finger to scroll and to move between web pages.
Thank you Anoymous Tipster!
source: USPTO,
PatentBolt
via
Webtrek.it