Google formally intros the LG V20 as the first phone to run Android 7.0 Nougat out of the box
24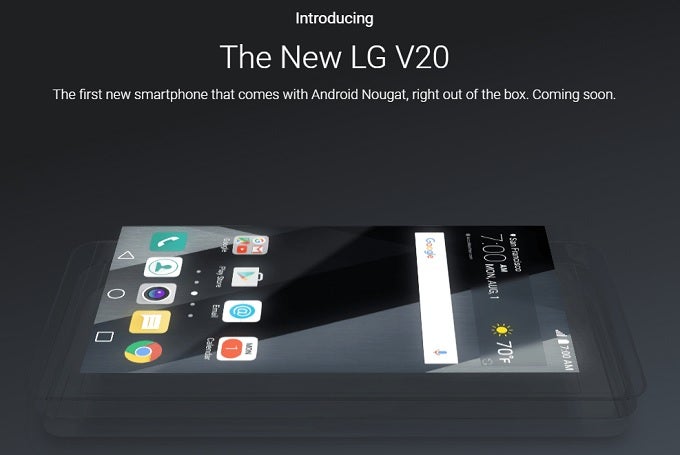 Starting today, August 22,
Android 7.0 Nougat is officially rolling out
, but only to the Pixel C convertible tablet and select Nexus devices - including the Nexus 5X, Nexus 6P, Nexus 6, Nexus 9, and Nexus Player.
While no one is surprised to see that Google's own devices are the first to be updated to Nougat, this year, things are different when it comes to the very first phone to run the new version of Android out of the box. This won't be a Nexus, but the upcoming
LG V20
.
Of course, LG already announced that the V20 would come with Nougat pre-installed, and now Google reconfirms this by "introducing the LG V20" as "the first new smartphone that comes with Android Nougat, right out of the box." The V20 is mentioned over at the official Android 7.0 Nougat website, and perhaps "introducing" is an exaggerated term, as Google doesn't actually show the handset, nor does it mention anything else about it besides what's quoted above. Still, we can catch a glimpse of the V20's Nougat UI, though this is (unsurprisingly) not too different from the Android Marshmallow UI that we're familiar with from the LG G5.
The
LG V20 will be officially unveiled
on September 6, and could be
released later next month in the US
, possibly costing $649 off contract. According to rumors,
the V20 should feature
a modular design, a dual rear camera, fingerprint scanner, and Qualcomm's powerful Snapdragon 820 processor.
LG says
that the new handset can offer "the best video and audio experience", but we'll see about that.
source:
Android.com