Google Play now offering free trials for in-app subscriptions
2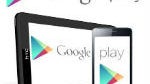 The Google Play Store has had
in-app subscriptions
available since May, and the feature really came into fruition in June when the Nexus 7 was released and
magazines
were added to the store. Now, in-app subscriptions are getting even better with the option to offer free trials.
As of today, developers can now add in the option to offer free trials for its in-app subscriptions. The free trial must be at least 7 days, but over that, it can be as long as the developer wants (although we don't really expect too many trials that last much longer than about 2 weeks.) The purchase will go through as a transaction for $0.00, and users will get an e-mail detailing the deal. When the trial ends, the full amount of the subscription will automatically be charged, unless the user cancels.
It seems like a pretty solid way to try to get more people interested in magazines in Google Play, and any other subscription services that are offered.