Google adding movie purchases, TV shows, and magazines to Google Play
2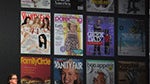 As part of the day 1 festivities at I/O, Google has announced a bevy of new features for the Play Store, including an expansion of ways to consume movies, as well as the introduction of TV shows and magazines. They are also introducing new discovery tools to help you find the media you like.
Google Movies has long used a rental-only model, but now Play shoppers will have the option to purchase movies that they want to watch more than once. This will bring
feature parity with iTunes
, which has provided the ability to choose between renting or purchasing movies from quite some time.
Of course the big screen is only one source of video content – many people enjoy their TV programming as much or more as what's on the silver screen, and the lack of TV content has been another difference between Google Play and iTunes. During the keynote Google announced content deals to bring many of the most popular TV shows to the Play store, available a la carte or by season.
Google has also made good on their expected
magazine announcement
. In addition to securing publisher agreements to bring titles to Play store customers, Google introduced two different ways to consume magazine content. For "standard" magazines (which are presumably easier to produce for publishers) Google has introduced a reading app that lets you easily browse through the pages to find what you want, as well as opening up an article in an Instapaper-like page that is optimized for better reading. For publishers who want to put the time into produce "premium" magazines, the reading experience becomes interactive with easy touch navigation that takes your right to articles, and interactive links that takes you to specialized content.
Whether these additions make people more likely to adopt the Android ecosystem remains to be seen, but at the least it appears that Google Play will not be a weak link for the platform.