Google Pixel duo and Android 7.1 Nougat may get long-awaited stock reboot button
16
A number of
Google Pixel-related rumors
have emerged over the past 24 hours or so, including the Big G's c
onfirmation of a special event for October 4th
. A tipster of
Android Police
has been a recurring source lately, and now suggests that the Pixel and Pixel XL / Android 7.1 Nougat will arrive with a native reboot / restart facility.
As has been noted before now, the Pixel duo is likely to ship with Android 7.1 Nougat -- an upcoming successor to the current version 7.0. According to this new report, the photo below is authentic, and the Pixel and Pixel XL could finally include a feature that much of the 'Droid community has long since pined for: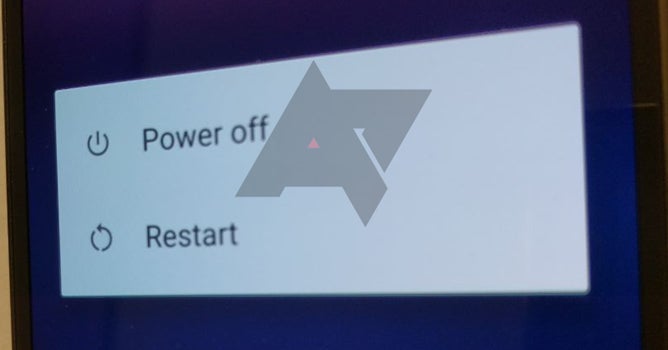 The report hastens to add that while the photo is legit, there's no telling whether the feature itself is intended for prime time use. If, as is suspected, the Pixel devices do roll out with Android 7.1 Nougat and a reboot option as depicted, it's reasonable to assume that wider recipients of the firmware update will also get to join the party.
A proper reboot function within stock Android doesn't seem like a particularly tall order, but Google's lack of implementation has made it into quite a big deal. While the various UX overlays and launchers have meant that it's easy enough to reboot an Android device with a few taps, it's always nice when functionality is catered to at ground level.
As confirmed by Google
, the Pixel event will take place in two weeks' time. You can keep abreast of all the latest rumors in
our round-up post
and below, we've included a gallery of all the leaks, renders and sightings we've stumbled across so far.