Google Nest ad accidentally showcases Pixel handset in all its glory
23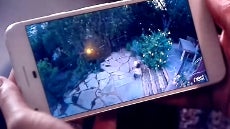 Companies often go to great lengths to keep upcoming products under wraps. But when the world is watching,
every slip-up is duly noted
, and in a new advert for its Nest smart thermostat, Google may just have given us our first clear live picture of its
upcoming Pixel handset
.
The clip shows an unspecified handset for a very brief moment. Taking into account the numerous leaks and renders we've seen so far, the device in question certainly fits the bill. Given their supposedly similar form factors, it's hard to tell whether the phone seen in the ad is the Pixel or the larger Pixel XL. Either way, at around the 8 second mark of the clip below, you can see what may be the first live peek at the forthcoming Pixel.
The sighting doesn't tell us much that we didn't already know, though does seemingly put paid to a few indications that Google could include an oblong home button just below the display. You can find a comprehensive round-up of the Pixel-related coverage by hitting
this link
.
A short while ago, it emerged that the new Google-branded handsets could align with the likes of the iPhone 7 and Galaxy S7
in terms of price
. Of all the rumors that have emerged so far pertaining to the Pixel series, we sincerely hope that particular leak is off the mark.
Take a look at the brief clip below, and let us know in the comments whether the Pixel design language floats your boat.