Google Pixel XL and Pixel rumor review: design, specs, features, price and release date
71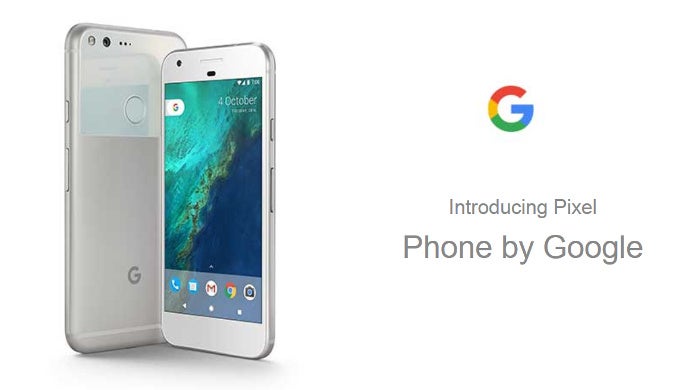 Each and every year, die-hard Android fans are waiting for one thing, and one thing only - the release of that year's Nexus lineup. Indeed, many die-hard fans consider Nexus devices to be the hardware paragons of the whole idea behind the "Android experience" and owning one is considered a vital requirement for anyone deeming themselves fans of the platform. We wouldn't endorse such crude generalizations, but truth is that for many people the leitmotif is "
Nexus or bus
t".
Frankly, we could see why that's true to many. Last year, we got treated to both the excellent Nexus 6P, manufactured by Huawei, and the not-too-shabby Nexus 5X, made by LG. This year we are once again expecting two Nexus devices to make an arrival and show us what Google and its hardware partners have come up with.
While this year's pure Android handsets were initially codenamed the Nexus Marlin and Sailfish, we recently learned that Google might call its next devices the Google Pixel and Google Pixel XL, with the latter reportedly being the better spec'd one, these two upcoming Nexus warriors are most certainly being made in collaboration with HTC and will have the tough task of filling the Nexus 6P and 5X's shoes, as the latter were mostly a pleasant surprise. We already seem to know quite a lot about these, so let us share it all with you!
TL;DR:
Design
: Same on both - two-tone probably glass back, a metal frame for the Pixel XL and a plastic one for the Pixel.
Display
: A 5.5" quad HD one for the Pixel XL, likely a 5.0" full HD one on the Pixel.
Hardware
: Both will share the same setups and will come with Snapdragon 820 or 821, 4GB of RAM, and 32GB or 128GB of base storage. The Pixel XL might have a 3,450mAh battery.
Camera
: The same setup on both devices - 12MP rear and 8MP front-facing cameras.
Software
: Android 7.1 Nougat, with the new Google Assistant replacing Google Now.
Announcement and release
: October 4, with a market release probably a few weeks after.
Design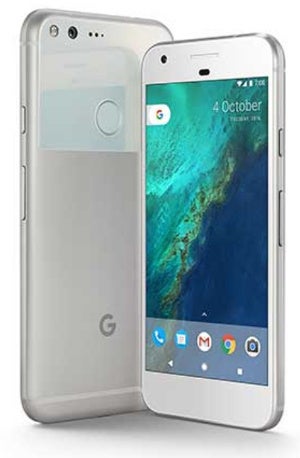 We've had our fair share of leaked materials and these give us a pretty good idea what the two devices might look like.
It looks that they won't be styled after the HTC 10 as it was initially speculated, but will employ more signature design that was already compared to the one of the Nexus 4 and the HTC Evo 4G LTE.
Both the Pixel and the Pixel XL are expected to be total look-alikes with the only difference being their overall size and probably the build materials.
So far, the leaks have shown us that both devices will feature two-tone black and gray design at the back, with what seems to be either glass or another glossy material. However, some of the clear new photo leaks have altogether convinced us that the Pixel XL will indeed be featuring glass at the back. Remains to be seen.
The larger and better-spec'd Pixel XL is generally expected to boast a metal frame, though the smaller Pixel could get a plastic one, which will further establish the notion that it is the lower-tier device. The Pixel XL will most certainly feature a 5.5-inch display whereas the smaller Pixel would most definitely clock in at 5.0 inches.

Traditionally, there won't be any physical or capacitive buttons below the display, but both Nexus devices will flaunt a circular fingerprint scanner at their backs. That's pretty much similar to what the Nexus 6P and 5X offered. As it's clearly visible in the renders and the leaked images, both phones will boast rear-positioned fingerprint scanners, which is similar to what the Nexus 5X and Nexus 6P offered. This time, however, it looks as if the sensors themselves are flush with the rear of the phones - lack of any humps at the back is something we generally love.
There will supposedly be a certain level of water protection on board, as the two phones are rumored to be IP53-certified. In common speak, this means they would be splash-proof in certain conditions, namely protected from
"water falling as a spray at any angle up to 60-degrees from the vertical shall have no harmful effect"
.
Additionally, we have no reasons to believe the new phones won't feature USB Type-C connectors, since both their predecessors featured such reversible USB ports. Finally, we've referred to both phone as the Pixel and the Pixel XL, but remains to be seen if it this name change will turn out to be true, though it won't matter that much. After all, it's not the name that makes a smartphone a noteworthy one, right?
But that's not all! UK-based retailer Carphone Warehouse mistakenly published a slew of presentation listings showing us a bunch of intriguing new renders and info regarding the upcoming Pixels. Check them out here:
Thirsty for more? A few weeks ago, a tv spot by Nest Netherlands is believed to have accidentally revealed the smaller-sized Google Pixel. Check it out below.
Display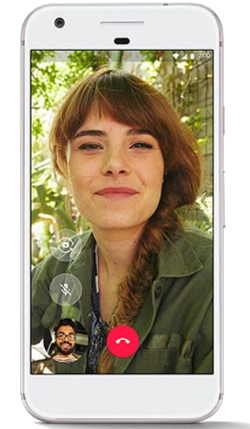 As far as we can tell, Google and HTC are not planning anything "curious" in the display department, neither curved edges nor a 4K overkill, As we already mentioned, the Pixel XL will be the larger Pixel warrior, as its display will clock in at 5.5 inches.
Some leaked benchmarks suggest that the resolution will be 1,440 by 2,560 pixels, which is already becoming a industry-wide standard for flagship Android handsets.
In the meantime, the Pixel is expected to boast a 5-inch display. Supposedly, the resolution here will be 1080 by 1920 pixels and we have no reasons to believe that a quad HD display will be fitted on that one.
That's a non-issue - a 5-inch display with such a resolution will still provide an enjoyable viewing experience, albeit not the sharpest one around. The rumor mill is dry as far as other rumors about the Pixels' displays are concerned.
Hardware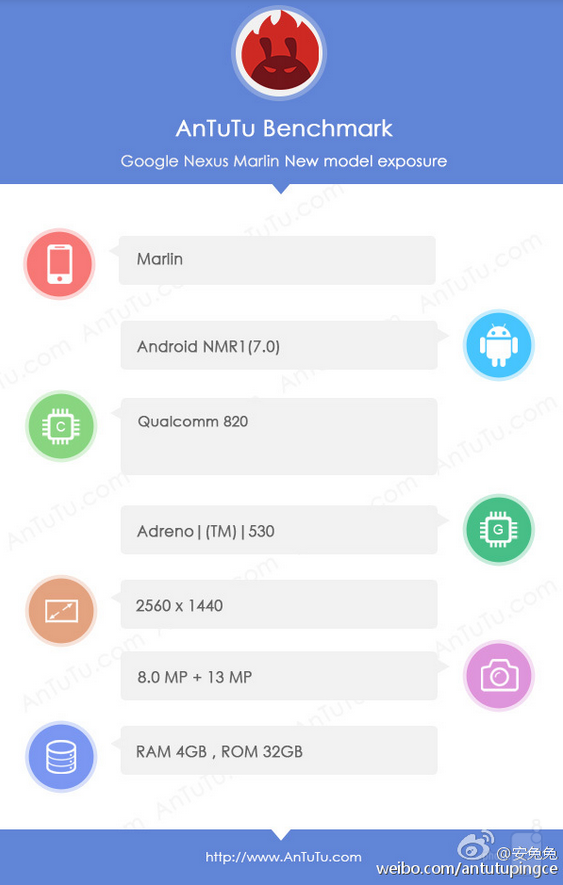 We've been reiterating that the Marlin will have a slightly shinier specs sheet, despite the fact that both Pixel devices would most certainly share lots of hardware with one another.
Both the Pixel and Pixel XL will be powered by Snapdragon 820 chipsets along with the now standard amount of 4 gigs of RAM on board. Yet, we won't be surprised if the Snapdragon 821 makes a more global debut on these. Actually, we heard that the Pixels will be the first phones with Snapdragon 821 in the states. As a reminder, the Snapdragon 821 is already powering smartphones - the Asus Zenfone 3 Deluxe is sporting one, but it's only available in Taiwan right now.

So far, so good, but the similarities don't end here - the Pixel XL and the Pixel will have 32 gigs of base native storage inside. While we haven't heard anything about larger storage versions, we are pretty convinced that both will arrive in 64 flavors, too.
As far as battery capacity goes, the Pixel XL could boast a 3,450mAh battery at the back, though we have no data indicating what the battery of the Pixel could be. If we were to guesstimate, we'd say that it might have a ~3,000mAh juicer on board.
We got hold of a leaked benchmark a few days ago, which supposedly reveals what the performance of the Google Pixel could be.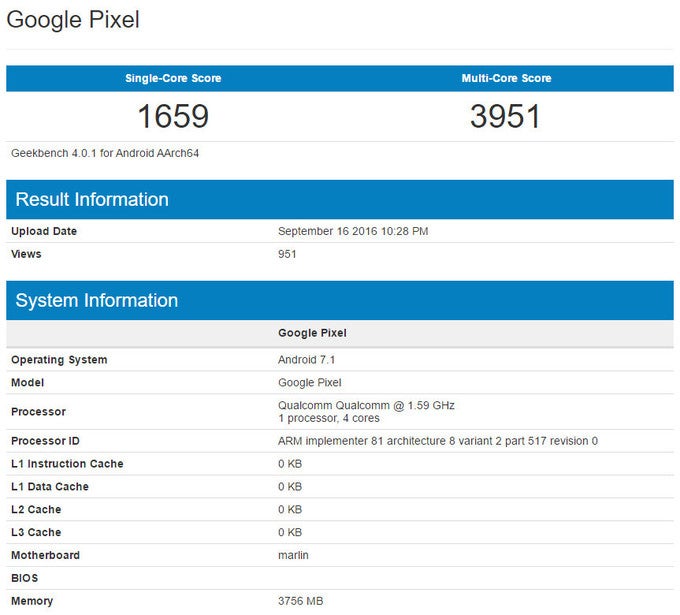 Leaked performance benchmarks supposedly reveal the Google Pixel's performance
Camera
To nix any unfounded expectations and hopes: we don't expect either of these to feature a dual-camera setup, neither at the back nor at the front. It seems Google is not really interested in this feature though HTC has definitely explored it multiple times. With such setups becoming more and more popular with the major handset makers, we can definitely see Google jump on the train, but we wouldn't count on that just yet.
It seems that
both devices will sport the same cameras
- reportedly a 12MP Sony IMX378 camera at the back and an 8MP Sony IMX179 selfie snapper at the front. Little is known about the rear sensor, but supposedly it's a worthy upgrade over the IMX278 that the Nexus 6P used. The front facing sensor is a less mysterious one - the 1/3.2" sensor with 1.4μm pixels will take care of user's selfie endeavors. We are certain there's much more to the cameras to be revealed, but we will have to wait for the official debut of the devices before we could summersault into the details.
We do hope for one thing though - we hope that both devices perform as good as the Nexus 6P and the 5X do in the camera department, if not inherently better.
Seems Google might have given us an early sneak peek at the Pixel and Pixel XL's camera capabilities - a number of camera samples were found on its teaser website, and we suppose that these could be taken by any of the Pixels. However, we are just
asuming
that this is the case, so don't jump to conclusions yet.
Software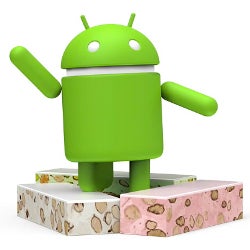 No surprises here either - the Pixel XL and the Pixel will be running Android 7.0 Nougat right out of the box. However, they will not be the first devices to do so - that honor goes to the LG V20, which became official on September 6 and will likely be available on the shelves before Google's Pixels are.
What remains for the Pixel and the Pixel XL? Well, rumor has it that these might mark the arrival of Android 7.1. Leakster LlabTooFeR claims that El Goog's new phones with arrive with Android build NDE63B, believed to be Android 7.1. While we are can never be sure, we heard that this one could bring a host of intriguing novelties. The first one might be called Night Light and it will allow users will be able to customize the blue light filter to kick in during predefined hours.

At this point, it's unclear if Night Light will be limited to the upcoming Nexus phones only, but we're certainly hoping for it to be baked right into future versions of Android Nougat. It also seems that the two new Pixel phones might score a native "Restart" option in their power menus, which has been available on most Android devices for a long time now.
Additionally, the Settings app could be getting a dual-tab makeover that will show menu items in one of the tabs and specific setting options in the other one. Finally, a double-tap-to-wake feature could also be making the rounds, and its functionality is rather easy to guess.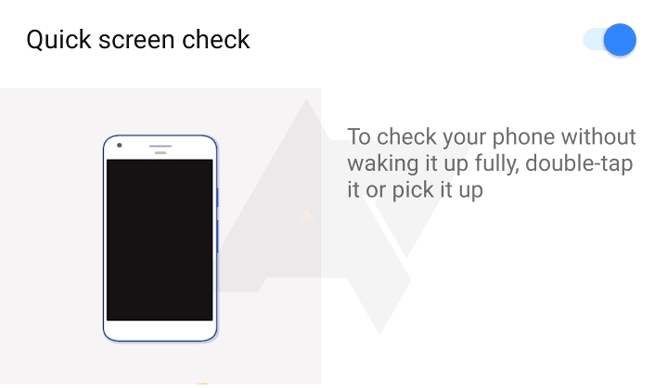 What's more, it seems that the Google Assistant that debuted along with the so-so Google Allo will be reinforcing the Google Now assistant on the Pixel and the Pixel XL. Apart from commanding it with voice commands, users will be able to control the Google Assistant with natural language via chat. This addition seems like a logical move - the Google Assistant is easily the best thing to come out of Google Allo and we wouldn't want it to go waste, right?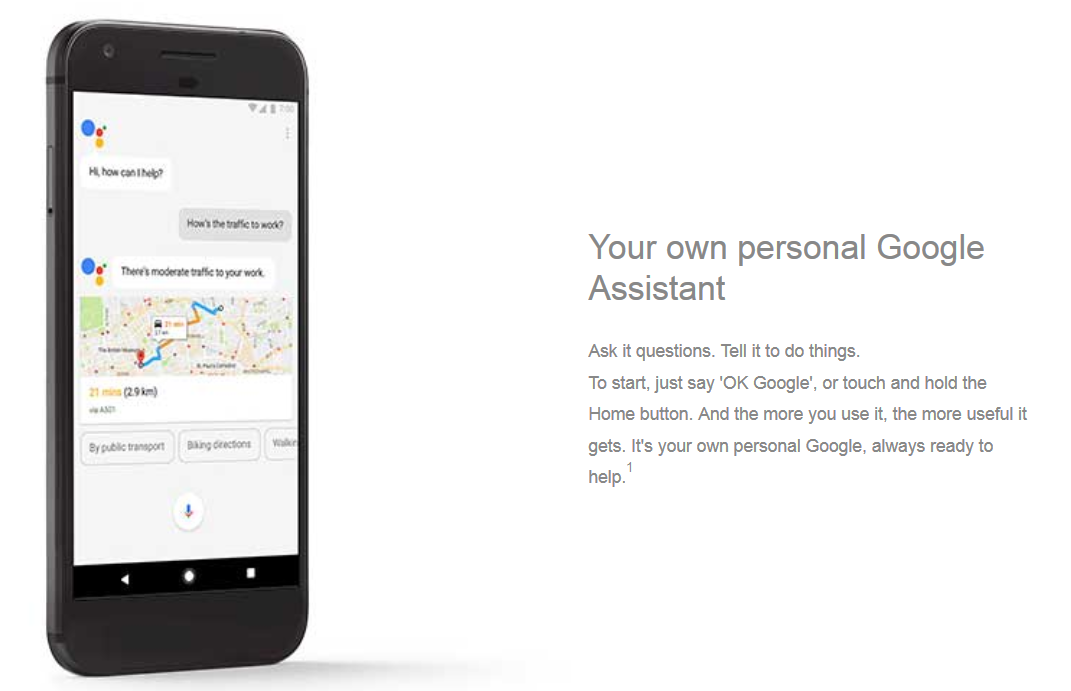 Pricing and release date
As far as release dates are concerned, there is nothing set in stone, but word on the street is the phones will be announced on
October 4
. Hence, the market release will likely kick off in the following weeks, though we can't say whether this will happen by the end of October. If you are thirsty for proof, the recently received FCC certifications for two upcoming Google devices should be a dead giveaway that these will be coming soon.
We have no idea what the pricing of the Pixel XL and the Pixel will be, but we suppose it might not be much different from the Nexus 6P and 5X's one. To speak in numbers, the 32GB Nexus 6P cost $499 at launch, the 64 gig one - $549, and the 128GB version - $649. Meanwhile, the 16GB Nexus 5X was selling for $379, while its 32GB flavor had a $429 price tag at launch. Here's a table that shows what last year's Nexus duo sold for in several different markets.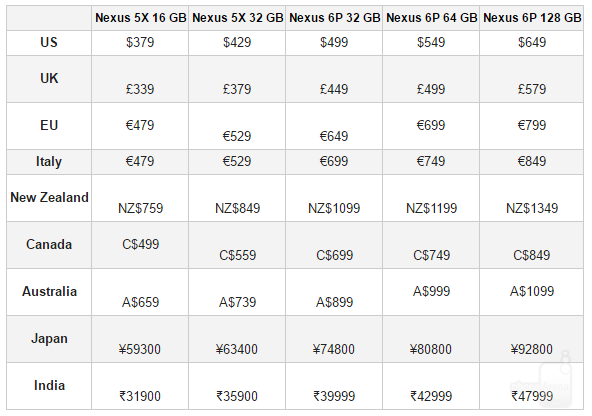 So far, it seems that Google has the rare chance of capturing way larger market share than usual. Hear us out - thanks to the Galaxy Note 7 fiasco, the top-end portion of the Android market is basically up for the taking, with merely few devices offering what the Pixel XL and the Pixel potentially would, namely no-compromise, no-gimmicky specs and stock Android experience. No doubt the honchos over at Google are seeing this potential, and they hopefully deliver.