Google Photos to allow grouping of similar pictures taken around the same time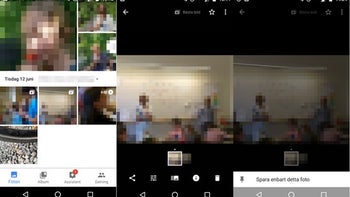 Google is bringing new features to
Photos
, but many of these improvements go unnoticed if you don't know where to look. Also, some may not even be available to all Google Photos users yet, as the search giant is
testing many of these new features
before launching them worldwide.
The last addition to the Android app managing your photos has been recently spotted by some users and it's supposed to improve the way pictures are grouped by Google Photos.
Basically, the app can now group together pictures that have been captured around the same time and have the same subject(s). Besides grouping these pictures together, Google Photos will also suggest you the one that looks better thanks to the algorithm hidden underneath.
Once the app groups together multiple photos, a thumbnail will be shown in your library, an indication that the "folder" hides more than one picture. Also, the best-looking one will be marked by
Google Photos
with a star icon.
It's also worth mentioning that you can save a picture from the group (the one you're looking at), and choose another primary picture for the entire group.