Google Nexus 7 light bleeding issue being reported
15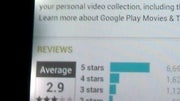 And the latest flaw to plague the
Google Nexus 7
tablet is a
pretty annoying display backlight issue
visible regardless of the lighting conditions. The problem was brought up by Twitter user
faux123
, who noticed that light was bleeding from the side of his unit's display.
Similar irregularities in backlight illumination are not something new. In fact, you might spot them with a naked eye if you look closely at the display of a cheaper handset. In this case, however, the issue is much more prominent, which is why the unlucky owner of this faulty Google Nexus 7 is waiting for a replacement. Oh well, at least he got to be among the first to take the tablet for a spin, albeit only for a short while.
This light bleeding issue comes only a couple of days after Google Nexus 7 owners reported that the screen on their units was
not attached tightly enough
, requiring them to tighten it with a screwdriver. A couple of weeks ago,
image retention problems were spotted
as well, although that flaw is likely present on some pre-production units only.
Those of you who have received their Google Nexus 7 tablets already, have you found anything wrong with the device yet? If so, do not hesitate let us know by dropping a comment below.