Google Nexus 7 has separation problem with its screen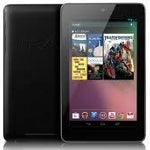 Some owners of the Google Nexus 7 tablet, including some whom are members of the Xda Developer's Forum, have noticed that the screen on the ASUS built device is
slowly moving above the plastic bezel
over time. In other words, the screen is popping up from the plastic casing. At first, the screen seems to creak when it is pressed, but eventually it starts to show some separation issues. One entrerprising Xda member,
jam10238,
removed the tablet's back cover and
tightened the screws that hold the screen in place
.
A few Google Nexus 7 owners decided to copy this maneuver and found upon removing the back cover of their unit, that the screws were
quite a few turns away from being sufficiently tightened
. While getting a screwdriver and turning the screws (no,
we don't recommend the Oppo Finder for this operation
) helped some, it didn't solve the problem in every case where there was screen separation.
request a replacement unit
. Now that the tablet has started shipping in number, you probably won't have to wait terribly long for a replacement. And we would try to avoid saying anything about having a screw loose because someone might take it the wrong way.
If you are the type that must fix it yourself before surrendering to a technician, you can find directions on how to remove the back cover and tighten the screws at the sourcelink.
source:
XdaDevelopersForum
via
Phandroid