Google Nexus 6 rumored to be a "lightweight" version of LG G3
59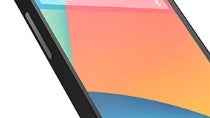 Google's Sundar Pichai talked about
the next-generation Nexus smartphone
last week at MWC 2014, telling us that the handset should be released in the second half of the year. That makes perfect sense, since the
Nexus 5
(seen on the left) is still a relatively new device. While Pichai didn't mention the name of the upcoming Google smartphone, it's probably safe to assume that this will be called
Nexus 6
. But now the question is: who will manufacture the next Nexus? Will it
be Lenovo
, as rumored last month? According to Gizmodo Germany, the answer is no.
Reportedly, Gizmodo received some details from a person in the know, who said that the Nexus 6 would be made by LG. According to this mysterious source, the new Nexus will be a "lightweight" version of the unannounced
LG G3
- which should be introduced sometime in June (we heard about this before). Previous rumors suggested that the LG G3 would feature a Quad HD (1440 x 2560 pixels) display, a 64-bit processor, and a
16MP rear camera
. We're not exactly sure what
lightweight
means for the Nexus 6, but we assume the differences between the two upcoming handsets will be mostly about design, not about specs.
As you should already know, LG is the maker of
Nexus 4
and Nexus 5 (the former is based on the
LG Optimus G
, while the latter is based on the
LG G2
), so the South Korean company is a proven partner to Google.
Gizmodo Germany notes that LG will probably also manufacture
Google's first smartwatch
(as we reported not long ago). This could be announced at Google's I/O event this June.
Of course, we should not forget that these are still rumors for now. You know how it goes: nothing is official until it's official.
source:
Gizmodo.de
(translated)