The Google smart-watch could debut at I/O this June, might have plastic band and color LCD display
13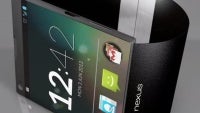 For the first time since last October, we are treated to a another course of rumors about the Google smart-watch. According to insiders at Mountain View, the smart-watch will be showcased at Google's I/O event this June. Thisis the expo which the company hosts to announce its latest hardware andsoftware developments, and connect with the tech community. Although an earlierrelease was considered, the watch team "believes" thepremiere will be pushed to June. It seems the device needs more timefor polishing before it's market-ready.
Before the June reveal, Google could announce a smartwatch-centric variant of Android in March. This stripped-down version will rely mostly on Google Now's voice recognition and search capabilities, which sounds similar to how Google Glass operates now. This announcement is likely to happen in a blog-post.
Reportedly, LG will be producing therumored device. This assumes a continuation of the Nexus device model, in which manufacturing is handed to a Google hardware partner. Having produced the successful Nexus 4 and Nexus 5, LG is arguably one of Google's most trusted partners. All this also makes the smart-watch a candidate to join the Nexus lineup, appearing for sale in the Google Play Store.
Google's smart-watch is said to have a plastic band and a full-color LCDdisplay that "looks like a cheap smartphone". Thisstatement is open to interpretation, but we naturally associate itwith a low pixel density and unspectacular viewing angles. The watch pairs withAndroid smartphones, but there is no mention of iOS, WP8, or othermobile platform support. The device shows notifications and GoogleNow alerts, but cannot run 3rd-party apps at this point.
Thissure sounds surprising, considering Google's efforts to foster adeveloper community long before launching Glass - a considerablyriskier product – to the mass-market. However, developers should beable to code for the smart-watch following future updates, or afterroot-ing their way to freedom. It would be very non-Google to lockthe device down.
There is no concrete term for releasecurrently, but at this point, the smart-watch's existence is a"public secret". Allegedly, working prototypes are beingtested under high confidentiality in a "Google building",and are unable to be taken outside at all. One of the earlyprototypes had a metal band, square face, and displayed an animatedbackground which blended gradient colors. We are also told thatdesigners from the Android team have been working on the smart-watchas well.
All of this information is sourcedstraight from the rumor mill, so better keep an open mind in themonths until June. Also, just to clarify, the thumbnail picture is a designer concept.
sources: CNET , TechCrunch, @evleaks