New Google Nexus 6 concept takes a colorful, curved approach
38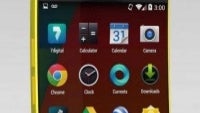 According to a recent rumor, Google's next-generation Nexus smartphone might be
manufactured by Lenovo
(which this week agreed to
buy Motorola from Google
for nearly $3 billion). There's no way of telling if this will indeed happen, so the list of possible Nexus 6 makers certainly remains open.
What will the next Nexus look like? That's anyone's guess. And this is why it's fun to take a look at the latest Nexus 6 concept - envisioned by 91mobiles.com. Reportedly using details suggested by readers, the website designed a Nexus 6 that's curved, resembling
LG's G Flex
. Its features should include a 5.2-inch 1080p display, next-generation quad-core Qualcomm processor clocked at 3GHz, 5MP front-facing camera, 13MP rear camera with 4K video recording and dual LED flash, 3GB of RAM, 32GB / 64GB / 128GB of internal memory, and a self-healing back cover (another feature borrowed from the LG G Flex). The handset shouldn't run Android KitKat, but a new iteration of Google's OS: "Android 4.5 Lollypop." Of course, it remains to be seen what name Google will choose for the upcoming major version of Android.
91mobiles's Nexus 6 comes in a total of six color versions: green, blue, yellow, red, white and black. The first four are obviously inspired by the colors of the official Nexus logo.
Google will probably unveil the Nexus 6 towards the end of 2014. Until then, let us know if you'd like it to look like this:
source:
91mobiles