Google Nexus 5X and 6P: all you need to know
8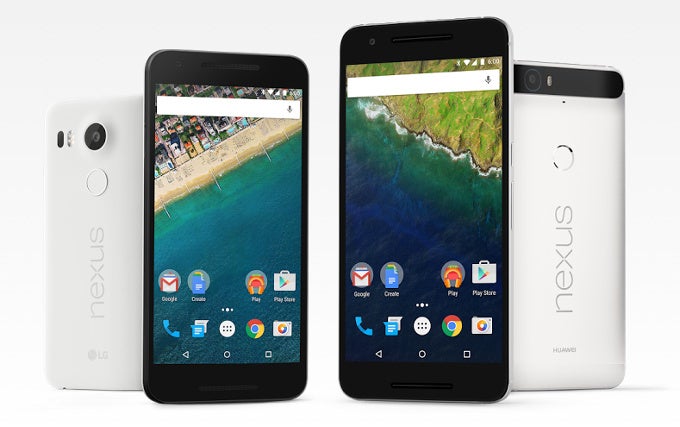 The Google Nexus is back.
One year after rumors about the Nexus program going away and one year after a gigantic, 6-inch Nexus 6 that even Google admitted failed sales expectations, the company has unveiled two new phones: the 5.2" Nexus 5X and the 5.7" Nexus 6P.
Fingerprint scanners, USB Type C and a focus on cameras
The Nexus 5X is the spiritual successor to the Nexus 5, and it's also made by LG. There are some similarities, but the design has evolved enough for the new 5X to also look very different from its predecessor. It's a plastic phone with three color, the Snapdragon 808 system chip and two storage options - 16GB and 32GB.




The Nexus 6P, on the other hand, is the first Nexus phone made by Huawei and it's the first phone with a sleek, aluminum body. Unlike the Nexus 6 that it technically succeeds, it's does not carry a gigantic foot print: in fact, the 5.7" 6P is compact for its size, comparable with the 5.5" Apple iPhone 6s Plus. It's got slightly beefier specs: the Snapdragon 810 with 3GB of RAM, a base model with 32GB of internal storage, a 64GB option, and 128GB version.



Enter the Nexus 5X and Nexus 6P
Size and specs comparisons
Phone size these days seems to hover around the 5.0" to 5.2" size and then, the larger, 5.5" to 5.7" display size for a clear distinction between what's commonly perceived as a regular-sized device and larger phablets.
This distinction is reflected in the Nexus 5X and 6P, but how do they compare to other devices in the Android ecosystems? And what about the iPhones: what's the size and specs difference? We explore these topics in the posts below.
With a focus on the camera
There is also some things that both new Nexus phones share: most importantly - the camera. The main camera on both is a 12.3-megapixel shooter with a large camera sensor carrying 1.5µm pixels and a wide, f/2.0 aperture lens. This - combined with laser auto-focusing and dual-LED flash - along with some neat new camera tricks, allows for better light and improved low-light camera performance. Google has finally gotten serious about cameras on its Nexus phones, and it's even published some very convincing initial camera samples to showcase the excellent camera qualities of the 2015 Nexus family.
Pre-orders open on Sept 29th, release date in late October
The 5X and 6P both come with a new 'Nexus Imprint' fingerprint scanners on their back. This is a fast, one-tap solution to unlocking your phone and it supports Android Pay. The pair also come with a USB Type C port, the new, reversible standard for charging and syncing, which is great. They both lacks wireless charging, and they both lack expandable storage.
Naturally, the biggest promise of a Nexus phone is pure Android and you have just that: no bloat and a stock Android 6.0 Marshmallow with the promise of timely updates in at least a two-year window from the release of the devices.
What's not to like?