Google Nexus 5X hands-on
21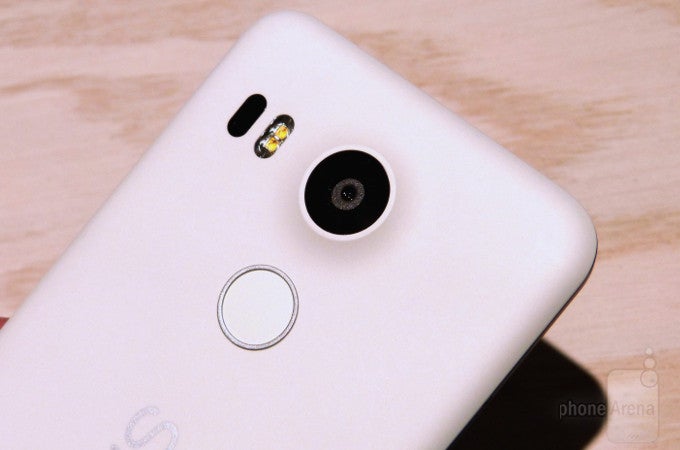 LG returns to bring us another Nexus device and that is a good thing. LG had two very well-received production runs with the Nexus 4 and Nexus 5 smartphones: both remain capable devices two or three years later. Now, to offset some expressed disappointment of such a large device that was the Nexus 6 last year, LG will once again cover the "smaller" side of the Nexus line-up with the Nexus 5X.
It is not lost on us that a 5.2-inch display is being called "small," but in the grand scheme of most high-end Android devices these days, 5.2 inches happens to be on the relatively more 'compact' side of that wheelhouse.
Design
LG built on its design language from the Nexus 5 a little, so it doesn't appear too different from the last regular-sized Nexus. The larger camera module, however, required LG to shape the camera on the 5X with a bit of a bump that is reminiscent of what we saw on the Nokia Lumia 1520. If you keep staring at the back of the Nexus 5X, though, you'll also notice that it is packing a fingerprint sensor right below the camera module. Meanwhile, on the bottom, there is the new USB Type-C reversible connector.
Display
Following in the Nexus 5's footsteps, the Nexus 5X is packing a 1080 x 1920-pixel IPS LCD display. Coupled with its 5.2-inch screen size, there is more than enough resolution (423 ppi) to provide excellent detail. An interesting detail to note here is that unlike the larger Nexus 6P, the Nexus 5X's display is protected by Corning's Gorilla Glass 3, and not Gorilla Glass 4.
Processor and memory
Under the somewhat unassuming appearance is all the right stuff to keep things operating smoothly. The highly capable hexa-core Qualcomm Snapdragon 808 CPU is on board, along with 2GB of RAM memory. There will be a couple different non-expandable storage options available: 16GB and 32GB. Given the lack of a microSD card slot, we'd strongly suggest that customers go for the latter option, seeing that 16 gigabytes tend to be quite insufficient these days, especially if the user likes to install a lot of applications, or store content like music or video.
Interface and Functionality
The stock Android experience remains impressive thanks to all the optimization that has been built into the platform the past couple years: Project Butter, Android Run-Time, and the Material Design motif continue to provide what appears to be a splendid user experience. And, now that fingerprint recognition is also part of the OS itself, it will be interesting to see where the Android team takes the feature beyond Android Pay.
Functionally, Android 6.0 Marshmallow arguably does not have the breadth of features that might be found on a heavily skinned Samsung, LG, or HTC Sense, but that plays to stock Android's strengths of smooth operation and integration with Google's services without other apps and "layers" getting in the way.
Camera
LG knows how to do cameras, so we hope that the stock Android photo processing plays to those strengths. The Nexus 5X's main camera is a 12.3-megapixel sensor. Laser-assisted auto-focus and dual-LED flash are along for the ride. The sensor on this device, and the Nexus 6P, feature larger 1.55µm pixels which should lend to pretty good low-light photos. However, the absence of OIS may hinder performance somehwhat. On the front is a 5-megapixel sensor for potentially sharp selfies and crisp video calling. The camera setup has all the makings to be a fine picture taker, here's to hoping it'll really turn out this way!
Pricing, release date, and expectations
The Google Nexus 5X will start at an attractive $379 for the base 16GB model, and reach $429 for the 32GB model. They are available to pre-order now in the Google Store. If you pre-order now, your new Nexus will come accompanied by a $50 Google Play credit.
What we cannot help but wonder is if Google and LG are ready to handle what is sure to be a very high demand for the new Nexus 5X smartphone. Every year we witness the rare occurrence of the Google Store going into some weird "safe" mode, and then within minutes, everything is sold out. We think Google made the right choice in simply opening up pre-orders for the devices now, we see no reason why demand will be any less this year.