Google Babel may "eventually" support Google Voice
1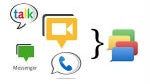 Google Babel news seems to be coming much quicker these days, and today brings quite a bit of potential news on the app. As we expected, it sounds like Babel will not include Google Voice at launch, and will only
bring together
Google Talk, Google+ Messenger, and Hangouts. But, it sounds like there are plans to "eventually" support Google Voice.
As we've heard before, the plan is to make
Google Babel cross-platform
and have offerings on the Web, Android, and iOS. And, like recent Google apps on iOS like Maps and Google+, word has it that Google is aiming to build a "first class iOS experience". The rest of the news is about what we've heard before on the topic. A supposed Google memo gives this list of features:
Brand new UI

. We've designed a new UI that's applied across all clients and promotes conversations.

Stay in sync

. With just one conversation list and experience across mobile and desktop, everything is always in sync. Install the Chrome app, the Android app, and iOS app.

Desktop app

. Stop laying whack a mole across blinking browser tabs. With the new Chrome app your conversations continue outside of the browser.

Keep a group conversation going

to coordinate with your team, and start a Hangout with a single tap whenever you need to talk face-to-face.

Be notified…just once

. Get notifications on your two phones, tablet, laptop, and desktop. Open it on one and watch the others disappear. If you're actively using your computer or phone we'll even intelligently notify you on just one of those endpoints. Magic!

Message more than just text

. Add a photo to the conversation and/or send some of the 800+ emoji to your coworkers. Kittens and poop are particularly helpful in explaining complex issues.

Get nostalgic

. Scroll back in time and relive any (on-the-record) conversation, on any device.

More ways to talk

. For the first time we are building a first class iOS experience. Try out our very early preview on your iPhone or iPod Touch.
Still no word on when we'll see the app, but when we see this many leaks and rumors about a Google product, it can't be too far away. We're willing to bet that the only way Babel isn't released before Google I/O is if it is part of Android Key Lime Pie. But, even that seems unlikely, because any cross-platform Android apps have been decoupled from Android itself, and could be released anytime.